Storytellers' Institute Festosium
June 9–12, 2016

Tang Teaching Museum

---
---
Festosium (n). A gathering that combines the best elements of a festival to showcase and a symposium to bring together a small group of scholars and artists to engage with intellectual and creative work.
MDOCS' inaugural Festosium will be held June 10–12, 2016, with filmmakers, audio creators, visual artists and virtual-reality designers presenting recent documentary work that interrogates the division between fact and fiction, truth and reality.
All events are hosted at the Frances Young Tang Teaching Museum on the Skidmore College campus. Everything is free and open to the public.
SCHEDULE | CURATORS | VIRTUAL REALITY | GUEST PRESENTERS
---
Thursday, June 9
8 p.m.: Opening screening and discussion: Pussy Riot: A Punk Prayer (91 minutes) by Maxim Pozdorovkin & Mike Lerner
Friday June 10
1 p.m.: Welcoming remarks with Director Jordana Dym
1:30 p.m. : Sneak Peek Screening: Documentary Shorts (90 minutes)
Monsoon-Reflections/Untitled (23 minutes) by Stephanie Spray
El Palacio (30 minutes) by Nicolas Pereda
The Truth about Killer Robots (13-minute excerpt) by Maxim Pozdorovkin
La Bobera (3-minute trailer) by Jeff Silva and Luis Arnias
3 p.m.: Institute fellows welcome
3:30 p.m.: Festosium presenters panel, a preview and opening framework for the program
4:45 p.m.: Screening and discussion: Manakamana (118 minutes) by Stephanie Spray
7 p.m.: Reception and gallery opening with Evian Pan '17
8 p.m.: Listening event: The Truth that Fiction Can (and Cannot) Reveal
Ann Heppermann and Martin Johnson, founders of the Sarah Awards and hosts of the Serendipity podcast, will present audio works and lead a discussion about how in this "Second Golden Age of Radio," fictional works have been used to articulate truths that have primarily been the purview of documentary.
Saturday, June 11
10 a.m.: Engagement with Borrowed Light exhibit: Doc photography talk led by Sarah Miller and Sarah Sweeney
11 a.m.: Panel discussion: Virtual Realities
Marc Beaudet, founder and director of Turbulent.ca and Loïc Suty, director of the design team on The Unknown Photographer, discuss the creation of research-based virtual realities. Their latest work, The Unknown Photographer, began with a WWI photo album that inspired a documentary film and 20-minute virtual reality experience.
2 p.m.: Audio presentation and discussion: The Evolution of Movies in Our Heads
Ann Heppermann will lead Kaitlin Prest in a discussion about the evolution of her award-winning audio piece Movies in Your Head. The piece is the story about a woman who falls fast in love and begins to imagine the future she will have with her new girlfriend. When things fall apart, she then questions whether every kiss, utterance, and conversation was real or imagined. The piece started off as a documentary; more than 20 people were interviewed and a rough documentary was cut. But for Prest, the rough documentary felt less true than the story she felt she could tell in fiction.
4 p.m.: Panel Discussion: Crossing Borders: Exploring the Chimeric Paradox of the Real in Documentary Film with Nicolas Pereda, Maxim Pozdorovkin, Jeff Silva, and Stephanie Spray
6 p.m.: Reception
7 p.m.: Screening and discussion: Summer of Goliath (78 minutes) by Nicolas Pereda
Sunday June 12
11 a.m.–1 p.m.: Roundtable: Teaching with Documentary
2 p.m.: Sneak Preview Screening: Lee & Opal
Description: Deep in Kentucky coal country, Lee and Opal Sexton continue to farm their land along Linefork Creek. Well into his 80s, Lee is a retired coal miner and revered banjo legend, a living link to the deep past of American music. Though hampered by hearing loss, Lee continues to perform at square dances and teach his distinctive style to a new generation eager to preserve a vanishing cultural tradition. Filmed over three years, Lee & Opal offers an immersive view of its subjects' daily rituals and their inherent resiliency, while documenting the raw yet delicate music of a singular musician, linked to the past yet immediately present.
---
ANN HEPPERMANN is documentary artist, reporter and educator. Her Peabody Award-winning work has aired on numerous public radio shows including This American Life, 99% Invisible and Radiolab. In 2011 she was named a United States Artists Rockefeller Fellow. She teaches audio fiction and narrative journalism at Sarah Lawrence College in its writing program. Bitch Magazine once called her a "sort of Goddess of podcasting." She lives in Brooklyn, New York.
Learn more about the Sarah Lawrence College International Audio Fiction Awards, co-founded by Ann Heppermann and Martin Johnson (below) at www.thesarahawards.


JEFF SILVA is an American filmmaker, teacher and film programmer based in France. Silva's work explores the quotidian aspects of his subjects' lives, often over long spans of time. His most recently completed personal projects include Linefork (2016), Ivan & Ivana (2011) and Balkan Rhapsodies: 78 Measures of War (2008) have been exhibited at festivals and museums internationally, including MoMA's Documentary Fortnight, the Viennale, Visions du Reel, Valdivia, Flahertiana and DocAviv. An affiliate of the Sensory Ethnography Lab at Harvard University since 2006. The SEL is a practice-based program of visual anthropology exploring the interstices of art, anthropology and documentary film, where between its inception in 2006 until 2009 Silva developed the curriculum and methodology of the program alongside founder and director Lucien Taylor. Silva has also been programming documentary and experimental cinema for the past 15 years at BALAGAN, an offbeat and alternative screening series that he co-founded in 2000 in Boston.
Learn more about Jeff and his work at jeffdanielsilva.com.
---
Founded in 2002, Turbulent creates, produces and distributes award-winning cross-platform and transmedia projects with an emphasis on content, community and even eCommerce. Creative and efficient, they love challenges and imagining the best solutions to address them. They believe that the achievement of ambitious projects and brands starts with a creative use of technology. Passionate about their work and working as a team, combining their strengths to always surpass themselves, they're convinced that the quality of their projects is proportional to the passion they have in achieving them. Turbulent is behind the entire online platform of the Guinness World Record-setting crowdfunded project Star Citizen, a AAA video game created by Chris Roberts. They developed My CEC Zone, an award-winning educational digital platform that supports 70% of primary and secondary school students in Quebec. They conceived and produced Champlain's Dream, the most successful convergent project in Canada in terms of number of users and impact on client business. Turbulent's latest achievement, The Unknown Photographer, is a virtual-reality immersion into the fragmented memories of a World War I photographer that is currently touring the world and was part of the official selection of New Frontiers at the Sundance Film Festival 2016.
The Turbulent team (Marc Beaudet, left, president and co-founder, and Loic Suty, right, creative director of The Unknown Photographer) is bringing its 20-minute virtual-reality immersive experience The Unknown Photographer to the 2016 Storytellers' Institute Festosium for attendees to experience throughout the weekend.
---
MARTIN JOHNSON is the creative director at Ljudbang productions in Stockholm and a radio producer, journalist, sound designer and author. In 2008 he won Prix Italia for his documentary My Father Takes a Vacation. His work has been broadcast around the world in England, Canada, USA, Germany, Hungary, Italy, Finland, Norway and Ireland. His collection of essays called The Ocean was published in 2012 with much critical acclaim and is translated into several Languages. He has written several radio drama plays, including a story for The Sarah Awards launch.


NICOLÁS PEREDA is a filmmaker whose work explores the everyday through fractured and elliptical narratives using fiction and documentary tools. His work has been the subject of more than 20 retrospectives worldwide in venues such as Anthology Film Archive, Pacific Film Archive, Jeonju International Film Festival and TIFF Cinematheque. He has also presented his films in most major international film festivals including Cannes, Berlin, Venice, Locarno and Toronto, as well as in galleries and museums such as the Reina Sofía in Madrid, National Museum of Modern Art in Paris, Guggenheim and MOMA in New York and on television stations including HBO, Turner, MVS, Netflix and ISat. In 2010 he was awarded the Premio Orizzonti at the Venice Film Festival.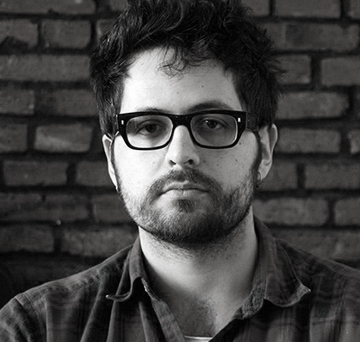 MAXIM POZDOROVKIN is an award-winning filmmaker, writer and media curator from Russia now based in NYC. He's the director of three feature documentaries and numerous short films. His documentary Pussy Riot: A Punk Prayer (2013) premiered at Sundance, where it won a Special Jury Award. Released theatrically worldwide, the film was shortlisted for an Academy Award. Maxim holds a Ph.D. from Harvard University and is currently an artist fellow at Harvard's Society of Fellows. His most recent film, The Notorious Mr. Bout (2014), about Russian arms dealer Viktor Bout, premiered at Sundance and screened at festivals around the world. His first feature film, Capital, is a modern-day city symphony about the construction of a utopian city in Kazakhstan.
KAITLIN PREST is the creative director of the Heart podcast on Radiotopia. She creates narrative audio experiences live and digital with rich sound design and intimate subject matter. Her audio work was awarded the Hearsay Festival's Overall Prize 2014 and Prix Italia Golden Award for New Radio Formats 2015.
STEPHANIE SPRAY is a filmmaker, phonographer and anthropologist whose work explores the confluence of social aesthetics and art in everyday life. Born in Minnesota and raised in Alabama, she has spent much of her adult life in Nepal, where she made the majority of her films, videos and sound pieces. Her work has been screened in film festivals around the world, from Locarno to BAFICI, where it has won numerous prizes; exhibited in museums such as the Whitney, MoMA, and National Museum; and had theatrical releases at home and abroad. She is completing her Ph.D. in media anthropology in the Sensory Ethnography Lab at Harvard University.
---
---