The Skidmore in Spain program has been suspended for spring 2021.

The Skidmore in Spain program, founded in 1985, is run in conjunction with Tufts University. This program is designed for students with an advanced knowledge of Spanish and strives to integrate students into Spanish life through courses at the Universidad Autónoma de Madrid (UAM) or Universidad de Alcalá de Henares (UAH), the experience of a family stay, internship options, and an emphasis on involvement in the cultural and social life of Spain. At the partner universities, Skidmore program participants join native Spanish students in their courses, choosing from classes in the humanities, fine arts, and social sciences. Course work in natural sciences is available to advanced majors in the field. Students also take selected courses at the Tufts-Skidmore program center in Madrid.
Customized internships are available for semester or yearlong students. The internships can be non-credit or credit bearing internships. Skidmore interns have been placed in private businesses, museums, theaters, media organizations, government agencies, and non-governmental organizations.
For more detail, please see http://www.tufts-skidmore.es/
Unique Characteristics of Skidmore in Spain
Direct enrollment in Spanish university classes
Broad range of curricular choices
Customized internship opportunities
Housing with Spanish families
Exposure to Spain's capital city and cultural immersion
Superior onsite support at our program center
THE PROGRAM CENTER
Students will utilize our program center located in central Madrid. The newly renovated program center offers program classes taught just for participants of the Tufts-Skidmore program. The center also has computers and printers for student use.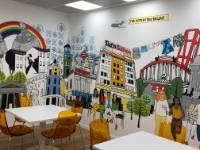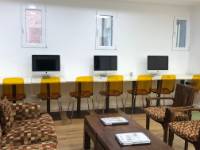 ON-SITE SUPPORT
The program center has full-time staff, all of whom are there to offer our students academic and personal support. We also have an on-site psychotherapist that holds regular office hours at the center, a health and wellness program, and ongoing intercultural mentoring and training.
PROGRAM DATES
Skidmore in Spain has fall semester, spring semester and full-year options. The following dates should be considered when making your plans.
Academic Year: early September through late May
Spring Semester: late January through late May
Fall Semester: early September through mid December