Off-Campus Study & Exchanges
We are now accepting applications for spring 2021 off-campus study programs. As students and their families begin to explore programs, apply, and prepare to go abroad, our office is available to assist and will continue to update our website with resources. Read more.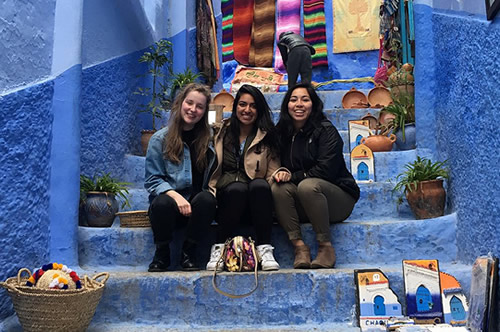 Welcome
Our office advises students and faculty on off-campus study opportunities, the application process, pre-departure support, assistance during their time overseas and upon their return to campus.
Featured Event
Global Conversation Series
OCSE is proud to announce our
Global Conversation Series
. This monthly lecture series will bring together Skidmore campus-based faculty and experts and faculty and experts from our international programs and partners, with the aim of providing truly global, substantive, faculty-led discussions regarding current issues and challenges that we all grapple with. There is an urgent need to hold these conversations and educate each other of our respective realities; yet currently, our students, faculty and staff have limited mobility and restricted ability to engage with the outside world face-to-face. We hope that OCSE's Global Conversations will provide an opportunity for intercultural discourse and debate.
Our October lecture discussed "
Mindfulness in Times of Crisis
" and you can access a recording of the program
here
.
Upcoming Events
---
Skidmore in Spain Info Session

Calendar Only Calendar Only : Thinking about studying abroad next year in Spain? Come join the Madridbased staff of Skidmore in Spain and learn about what the program offers: academics, home life,…

---
2019 Study Abroad Photo Contest Winners
Creative Thought Travels
---
Keeping Connections with my Study Abroad Program

Many people tend to perceive the London First-Year Program as preventing one from making connections on campus by being abroad during the first semester of freshman year. However, I found that being a London first-year student helped me to become more involved in the Skidmore community and to find leadership positions on campus that I […]

---

Dealing with the Uncertainty of Studying Abroad in the Midst of a Global Pandemic

We all had a feeling that the news was going to come one day. We were all waiting in anticipation for the email. In the midst of a global pandemic, we were all prepared for the things that we were most excited about in the near future to be altered, if not canceled, due to […]

---

Student Reflection: Waterfalls in Abel Tasman National Park

For my spring semester, I studied abroad in Christchurch New Zealand on the Frontiers Abroad Geology Program. For me this program included a 5-week Field Camp, where a group of geology students from schools around the United States traveled both South and North Island New Zealand researching and collecting scientific data. One place I never […]

---

Student Reflection: Cusco, Peru

I was lucky enough to live in Cusco, Peru during the spring semester of my junior year, it was truly an incredible and eye opening experience. During the last month of my program I lived with an indigenous Quechua farming community on the island of Taquille, where I studied their system of cultivation, as they […]

---

My Digital Story

Below is a link to my digital story, a video i created to tell the story about how I met two life-long friends from one early morning adventure. Watch the video below! Script: With the *click* of the shutter, a photo is taken. A memory, stored forever without limits. While I spent my whole year […]

---

The Process of Picking a Study Abroad Program

To many, the process of picking a study abroad program can seem daunting, as it requires planning, commitment, and self-exploration. However, as a student who not only took part in Skidmore's London First-Year Experience but who is also aware of Skidmore's well-developed, expansive Off-Campus Study and Exchanges department, I am certain that I want to […]

---

Concerts in London

Would you believe in the 20 years I had lived before going to London, I never attended a concert before? Well, there was one when I was about 4, 5, or 6… basically too young to remember, which was a Bollywood concert my family was raved about going to way way back in the early […]

---

A Year Ago Today: A Corsica Adventure

Time has flown by since last year. Ever since returning from my abroad experience I have been nostalgic about all the adventures I had and the people I met. Last fall I spent 5 months in Freiburg, Germany with IES studying the German Language. After a month in, we had the opportunity to go to […]

---

Finding Ways to get Exercise While Abroad

By student assistant Alena Larsen I enjoy exercising a few times a week. While I was abroad in Brazil and Vietnam, I found it slightly challenging to find places to exercise given that I was living with host-families and my programs traveled often; however, exploring ways to exercise lead me to different opportunities to participate […]

---

Best Brunches in D.C.

By student assistant Rachel McPherson After a busy week of interning and taking classes, Saturday and Sunday mornings always involved sleeping late and grabbing brunch in the city. It was the perfect way to catch up with friends and enjoy a good meal! With so many places in D.C. to choose from, here are some […]

---
OCSE Contact
Questions?
Have questions? Fill out the form below and we'll respond to you as soon as possible.