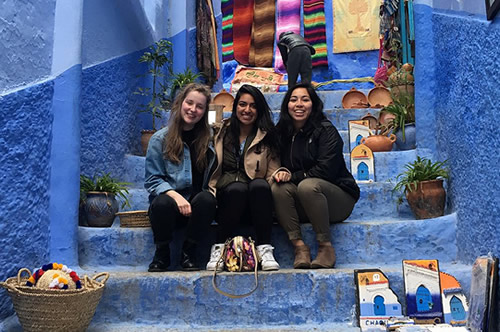 Welcome
Our office advises students and faculty on off-campus study opportunities, the application process, pre-departure support, assistance during their time overseas and upon their return to campus.
DID YOU KNOW?
Skidmore College is consistently ranked among the top ten baccalaureate institutions for the number of students studying abroad for one semester. According to the most recent survey put out by the Institute of International Education (IIE), we've improved in all of our national rankings!
Ranked #7 by mid-length duration (semester long) study abroad for baccalaureate institutions (previous year = #8)
Ranked #17 by total number of study abroad students for baccalaureate institutions (previous year = #21)
Ranked #31 by overall undergraduate participation in study abroad for baccalaureate institutions (previous year = #40)
Upcoming Events
---
Skidmore in Paris Info Session

Tisch Learning Center TLC 208

---

Show & Tell

Case Center Table #1 Case 2nd Floor : The OffCampus Study Show & Tell event will highlight 8 students that have studied off campus. Each student will create a display to illustrate their time…

---

OCSE Mini-Fair

Case Center Table #1 Case 2nd Floor : Come learn more about your offcampus options directly from the program representatives. This is a great opportunity for those who do not know where they want to…

---

General Off-Campus Study Pre-Departure Orientation

Palamountain Hall Davis Auditorium: This is a mandatory meeting for all students studying abroad on a nonSkidmore program (so not run by Skidmore) for the fall 2020 semester or full academic year. If…

---

Oxford Travel Seminar Info Session

Tisch Learning Center TLC 208: Join us to learn more about the summer 2021 travel seminar taking place at St. Hilda's College at Oxford University. Professor Sheldon Solomon will explain the course…

---
2019 Study Abroad Photo Contest Winners
Creative Thought Travels
---
Student Reflection: Cusco, Peru

I was lucky enough to live in Cusco, Peru during the spring semester of my junior year, it was truly an incredible and eye opening experience. During the last month of my program I lived with an indigenous Quechua farming community on the island of Taquille, where I studied their system of cultivation, as they […]

---

My Digital Story

Below is a link to my digital story, a video i created to tell the story about how I met two life-long friends from one early morning adventure. Watch the video below! Script: With the *click* of the shutter, a photo is taken. A memory, stored forever without limits. While I spent my whole year […]

---

The Process of Picking a Study Abroad Program

To many, the process of picking a study abroad program can seem daunting, as it requires planning, commitment, and self-exploration. However, as a student who not only took part in Skidmore's London First-Year Experience but who is also aware of Skidmore's well-developed, expansive Off-Campus Study and Exchanges department, I am certain that I want to […]

---

Concerts in London

Would you believe in the 20 years I had lived before going to London, I never attended a concert before? Well, there was one when I was about 4, 5, or 6… basically too young to remember, which was a Bollywood concert my family was raved about going to way way back in the early […]

---

A Year Ago Today: A Corsica Adventure

Time has flown by since last year. Ever since returning from my abroad experience I have been nostalgic about all the adventures I had and the people I met. Last fall I spent 5 months in Freiburg, Germany with IES studying the German Language. After a month in, we had the opportunity to go to […]

---

Finding Ways to get Exercise While Abroad

By student assistant Alena Larsen I enjoy exercising a few times a week. While I was abroad in Brazil and Vietnam, I found it slightly challenging to find places to exercise given that I was living with host-families and my programs traveled often; however, exploring ways to exercise lead me to different opportunities to participate […]

---

Best Brunches in D.C.

By student assistant Rachel McPherson After a busy week of interning and taking classes, Saturday and Sunday mornings always involved sleeping late and grabbing brunch in the city. It was the perfect way to catch up with friends and enjoy a good meal! With so many places in D.C. to choose from, here are some […]

---

How I matched Madrid with my Major

Hello Skidkids! Thinking about going abroad? Good! But are you worried about how it will work with your major? Totally natural. Deciding to study off-campus for a semester or two is a wonderful decision, but it takes a lot of consideration and planning ahead. However, one thing we want to emphasize here at OCSE: we […]

---

The Stars Shine Brightest in Bathurst

As part of the study abroad program I came with to Australia, I spent a weekend on a farm in Bathurst. I was looking forward to this trip as a chance to get away from the hustle and bustle of city life and soak in the serenity of a quiet farm life-style, and I feel […]

---

Tips! How to Prepare for Studying Off-Campus

By student assistant Christina Pavlaki '19 Dear study-abroad applicants, You will soon be hearing back from your study abroad program! If you find out that your off-campus experience will be somewhere cooler than Saratoga Springs, you will want to start preparing for this great adventure. Since I am totally jealous of you and your near […]

---
OCSE Contact
Questions?
Have questions? Fill out the form below and we'll respond to you as soon as possible.