Structured for Success: the OP Team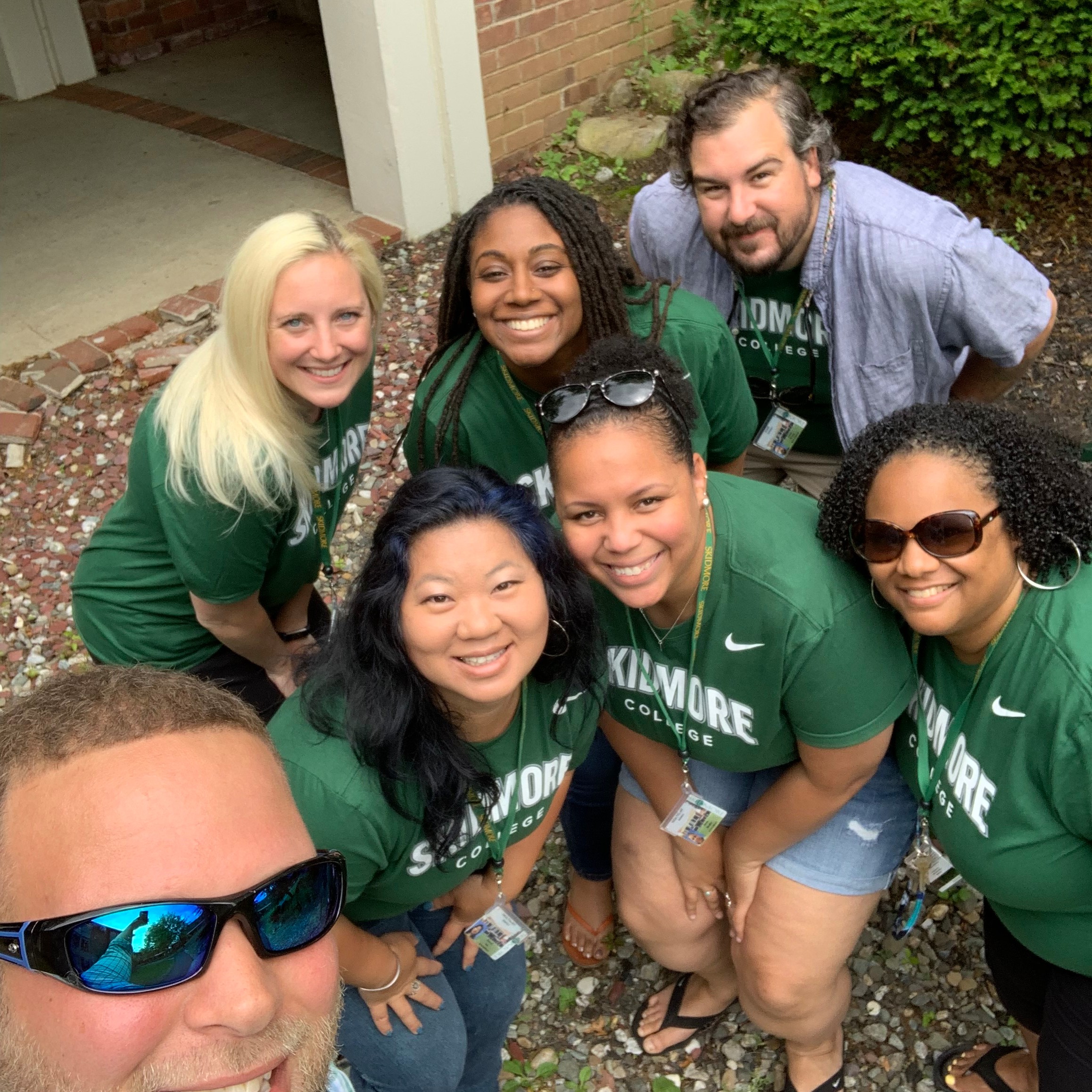 Academic success starts with a solid structural foundation, and the OP Team is skilled in promoting the highest level of academic support, psychosocial development, curricular guidance, and post-baccalaureate preparation for our OP students.
Kelli Johnson
Director
Kelli Johnson is responsible for overseeing the Opportunity Program, staff, students and daily operations. She received a BA in Spanish and an M.Ed. in Higher Education Administration both from the University of Arkansas. However, originally from the capitol district, she decided to relocate closer to home to be near family and friends. Kelli has been working with grant funded programs since 2003 and is responsible for the successful compilation and implementation of many grant-funded programs. Her personally philosophy includes supporting students in a holistic manner while helping them achieve the ultimate goal of graduation and matriculation. In her spare time, Kelli enjoys baking, reading, playing games, and spending time with family and friends.

Kelli A. Johnson, M.Ed.
Director of Opportunity Programs
815 North Broadway
Saratoga Springs, NY 12866
Kjohnso2@skidmore.edu
Office: (518) 580-5771
Fax: (518) 580-5781
---
Eun-Sil Lee, PhD
Coordinator of Upperclassman Initiatives
Eun-Sil Lee has a PhD in social welfare from the State University of New York at Stony Brook, an MA in educational psychology and in counseling from Loyola Marymount University, and a BS in psychology from Tulane University. She is passionate about education and empowerment, reflected in her philosophy toward student support that centers on the raising of critical consciousness, empowerment, and ownership. Her focus is on developing career-oriented opportunities to prepare OP students for life after Skidmore, as she believes that access is not just about access to a quality higher education, but also access to job opportunities after graduation.
---
Aaron R. Ray
Assistant Director-Student Outreach

Aaron is responsible for all aspects the admissions and recruitment of Opportunity Program students, as well as the design and implementation of the Summer Academic Institute that all incoming OP students attend. He earned his BA in American Studies from Union College and his MS in Organizational Leadership from Quinnipiac University. Joining us from Union College in August of 2015 where he worked as an assistant dean of admissions, Aaron has spent the majority of his career working in the field of inclusion, access, and success through volunteer efforts with such programs such as Camp College (New York State Association for College Admissions Counseling) and College Exploration (College for Every Student) and the annual Coming Together Conference. Aaron represents Skidmore as a College Delegate for NYSACAC and NACAC and is the Albany Regional Representative for the HEOP Professional Organization. Sitting on these executive boards allows Skidmore and its students to be represented during the development of policies and programming that impacts HEOP students across the state of New York. His personal philosophy includes supporting students throughout their time as Skidmore holistically, while also helping them to hold themselves accountable. In his spare time, Aaron enjoys playing pick-up basketball, watching sports, reading/watching/talking about anything comic book related, debating with students about the best hip-hop artists, playing with his three dogs and spending as much time with his wife and younger daughter.
---
Meghan Carpentier
Coordinator of Student Success and Retention

Meghan earned her B.S. in Psychology from Fordham University and her M.Ed. from the University of Delaware where she focused on Higher Education Administration. Prior to joining the OP staff Meghan worked in Residence Life for 4 years and Career Services for a year and a half. Meghan is originally from the Albany area – Guilderland specifically so she is very happy to be home! Meghan loves getting know students and helping them reach their fullest potential while attending college. Outside of work Meghan enjoys Broadway shows, watching the NFL (Patriots specifically!), relaxing and seeing family. She is looking forward to meeting all of our OP students so please feel free to stop by and say hi anytime!
---
Adam Evans
Learning Associate
Adam Evans is the Opportunity Program's Learning Associate for Humanities and Social Sciences. His background is in teaching American Literature, developmental writing, and varying levels of composition. He received his BA in English from SUNY Albany and his MA in American Literature from Temple University. Since earning his MA in 2013, he has taught literature and writing to diverse student populations at a wide variety of institutions. His teaching focuses on pushing students to draw from their backgrounds as they enter into academic discourses and to imagine the social change they wish to enact through their education. Outside of teaching, his interests include fly fishing and an immersive study of gastronomy.
---
Devin Madkin
Administrative Assistant
Devin is the Opportunity Program's Administrative Assistant. She manages the office and supervises the student workers. She graduated from SUNY Oneonta in 2014 with a BA in arts and humanities. In her years prior to Skidmore she spent her time in real-estate marketing. However, her passion to work with children brought her back into the world of education in 2016. Although she only began her higher education career a little over a year ago, she has worked with children for the past seven years. She spends the rest of her time working at The Y which further displays her love and devotion for working with young adults. Her energy and charisma bring positive vibes throughout the office daily.