Palamountain Scholarship Benefit
Profiles
Amy Bergstraesser '11, Palamountain Scholar and Award Winner
Amy Bergstraesser spoke at the Polo by Twilight benefit as a student in 2011, and now returns to the stage as the fourth Anne T. Palamountain Scholar Award recipient. After graduation from Skidmore, Amy went to law school, but she went far beyond her coursework while studying to be an attorney.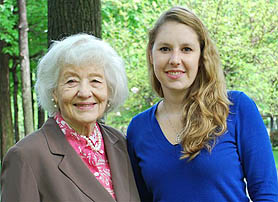 Amy, with Anne Palamountain
She organized and led a group of law students to Arizona during her first spring break to do pro bono immigration work at the border. That summer, she worked with the victims of human trafficking to solve many of their disparate legal and immigration matters. During her second year, she negotiated and drafted contracts for cross-border transactions while training for a triathlon. In her last semester of law school, she completed a fellowship at the World Health Organization's Office of the Legal Counsel in Geneva, Switzerland.
After graduating from the University of Michigan Law School in May 2016 and passing the bar exam, Amy began pursuing a career in public international law at Ogletree Deakins, a large international law firm, and on weekends provided free legal advice through the American Bar Association for those who can't afford it. She is currently on leave from the law firm, serving two years as an International Fellow for Indiana University's Office of the Vice President and General Counsel. Her work will include negotiating contracts for and setting up gateway offices in several countries around the world, and she hopes to promote greater global understanding and collaboration through developing study and work abroad opportunities around the world.
"Each exciting opportunity that I have had has a foundation with experiences I had at Skidmore. If not for Ben Yelin's encouragement to run for President of the Skidmore Democrats (a senior while I was a freshman), Professor Ron Seyb's guidance in navigating my Senate internship, Professor Grace Burton's course election and life advice, the three study/work abroad opportunities I partook in (Chile, Turkey, and China), and the constant support I still get each day from the lifelong friends I made at Skidmore, I would not be here today.
I truly believe that the friendships forged, the confidence attained from the many extracurricular activities available to me, and the unparalleled mentors at Skidmore led me to where I am today. I adored my time at Skidmore, and am glad that future students will have the same opportunities that I had."
Updated 7/7/17