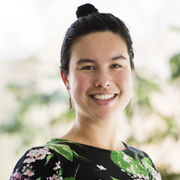 Erica H. Wojcik
Assistant Professor


Contact Information and Background
Email: ewojcik@skidmore.edu
Phone: 518-580-8306
Office: TLC 106


EDUCATION
Postdoctoral Fellowship, University of British Columbia
Ph.D., University of Wisconsin-Madison
M. S., University of Wisconsin-Madison
B. A., Princeton University
COURSES TAUGHT AT SKIDMORE
Developmental Psychology
Educating Parents in the Digital Age
Language Development
Research Methods in Psychology II
RESEARCH INTERESTS
Language acquisition: How do infants and toddlers learn the sounds, words, and grammar of their native language(s)?
Early word learning: How do toddlers learn the meanings of their first words?
Semantic knowledge: How do young children learn about the world, and how do they organize that information in their minds?
Statistical learning: How do infants, toddlers and adults use patterns in the world around them to learn about language, objects, and events?
Memory development: How does our memory change from infancy to childhood to adulthood? How does this change affect language learning?
RANDOM FACT
I completed an Ironman triathlon, and I love swimming, cycling, and rowing
CLICK HERE FOR PERSONAL WEBSITE