Holiday help for neighbors
December 13, 2016
Skidmore Cares, a community giving program led by President Phil Glotzbach and Marie Glotzbach with a contingent of campus volunteers, was a huge success this year.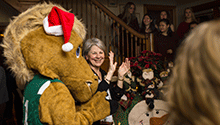 Skids and Marie Glotzbach applaud student
a cappella groups at the open house.
Attending the Glotzbachs's open house to celebrate the event, some 600 students, faculty and staffers gathered for food and fellowship at Scribner House, piling up their donations on the front lawn and indoors. These were added to other donations collected all across campus and then delivered by student-athletes and other volunteers to 10 local agencies including the Corinth School District, Latino Advocacy Program, Mary's Haven, Saratoga PATHS housing program and Shelters of Saratoga.
Kari Cushing, executive director of Saratoga's Franklin Community Center, says, "We have come to rely on Skidmore Cares to help sustain our pantry during this busy time of year. The program dropped off 919 pounds of food, which will go a long way in helping us to assist those in our community who so desperately need it."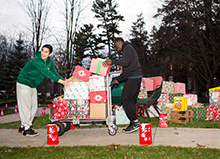 Carting donations from the Scribner House
lawn to 10 local service agencies
This year's total included 3,227 food items, 719 school-supply items and $13,745 in cash. Proceeds from Beatlemore Skidmania's ticket, poster and T-shirt sales accounted for $10,000 of the cash, while vendors doing business with Skidmore donated some $3,500.

In a campuswide email, the Glotzbachs thanked organizers and donors. They called the open house "one of our favorite moments in the year as we all pause to connect as a campus" and to "embrace the spirit of the season by sharing with those in need."