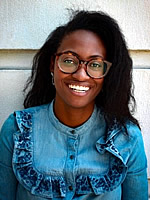 Rachel Cantave
Contact Information & Background
Assistant Professor
International Affairs Program
rcantave@skidmore.edu
Phone: 518.580.8257
Office: Palamountain 260
Rachel Cantave is an Assistant Professor of International Affairs. She holds a Ph.D. in Anthropology from American University, M.A. in Public Anthropology, and B.A. in Individualized Study from NYU. She was a Swarthmore College Latin American and Latino Studies postdoctoral fellow.
Professor Cantave teaches courses on cultural theory, research methods, race, religion, and identity politics in Latin America and the Caribbean. She is published in the Journal of Religious Studies, History and Society, and has several forthcoming articles and edited book chapters.
She is also co-founder of TheEbonyTower.com and co-producer of the documentary film Chèche Lavi (Looking for Life).