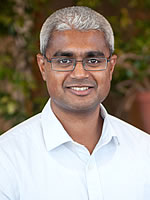 Mahesh Shankar
Contact Information & Background
Associate Professor and Director
International Affairs Program
mshankar@skidmore.edu
Phone: 518-580-8426
Office: PMH 261
Education

Ph.D. in Political Science, McGill University
M.A. International Relations, Jawaharlal Nehru University, India
B.A. (Honours) English, Delhi University, India
Current Courses
IA 101: Introduction to International Affairs
IA 201: Research methods in International Affairs
IA 376: IA Senior Capstone
IA 351: Asian International Affairs
IA 351: Causes of War, Paths to Peace
MB 351: Examining the Asian Growth Story
Teaching and Research Interests
Asian international affairs
Asian political economy
Chinese and Indian security and foreign policies
War and peace in world politics
Publications
Nehru's Legacy in Kashmir: Why a Plebiscite Never Happened," India Review, vol. 15, no. 1, 2016, 1-21.


Nuclear Doctrines and Stable Strategic Relationships: The Case of South Asia," International Affairs, vol. 92, no. 1, 2016, 1-20. (with T.V. Paul).


"Showing Character: Reputation and the Sino-India Dispute, 1957-1962," Asian Security, vol. 11 (2), Summer 2015, 99-115.


"India and the US 'pivot' to Asia: Convergence without change," in William Tow and Douglas Stuart eds. The New US Strategy Towards Asia: Adapting to the American Pivot (London: Routledge, 2015), 184-200.


"Status Accommodation through Institutional Means: India's Rise and the Global Order," in T.V. Paul, Deborah Larson, and William C. Wohlforth, eds., Status in World Politics (Cambridge: Cambridge University Press, 2014), 165-191. (with T.V. Paul).


"Foreign Policy Making in India: Looking for Theoretical Explanations," in Amitabh Mattoo and Happymon Jacob, eds., Shaping India's Foreign Policy: People, Politics and Places (New Delhi: Har Anand Publishers, 2010), 46-77. (with T.V. Paul).


"Why the US-India Nuclear Accord is a Good Deal," Survival 49 (4), 111-22. (with T.V. Paul).