Fall 2016: Welcome Note
September 23, 2016
As the crisp, cool autumn air returns to upstate New York, MDOCS starts the 2016–17 school year and its third year by bringing back some traditions and starting a few new ones. Storytellers' Institute participants return to show what they've made and introduce the '17 theme. Classes old and new engage students and pave the way for the next institute. A themed Doc Date series offers a new twist, focuses on portrait and biography in the region in different doc genres, and a nationally launched new documentary film, When War Comes Home, grapples with conflict's wounds that may be invisible to an observer in partnership with the Saratoga-area veterans community.
We look forward to seeing you in class, in the community, at events and in a terrific range of workshops open to all and led by the students in LIB 113, MDOCS/Visualization Forum's home of liberal arts fieldwork.
Classes
In the classroom, along with now-familiar course offerings including "Principles of Doc," "Intro to Audio" and "Storytelling for the Screen," the program develops new tools to help students imagine how to tell stories that matter through "Virtual Reality" with Nicky Tavares, creating public service announcements in faculty-student led team of Jordana Dym and Eli Ruben '17 and a crew-based video course with Nicole Coady and Vickie Riley.
Focusing on exhibit as well as production, we are also excited to introduce "Festival Programming" with new faculty member Tom Yoshikami. "Festival Programming" is the first of a two-part course building the framework for the first MDOCS student-run documentary festival launching in 2017. Tom joins us from the University of Wisconsin-Madison, where he led students in running a campus movie theater as well as maintaining five gallery spaces and curating a marquee lecture series. The class will visit regional festivals this fall for inspiration as well as plan and host MDOCS' end-of-semester showcase of student work December 13–14, which will feature work from across the program.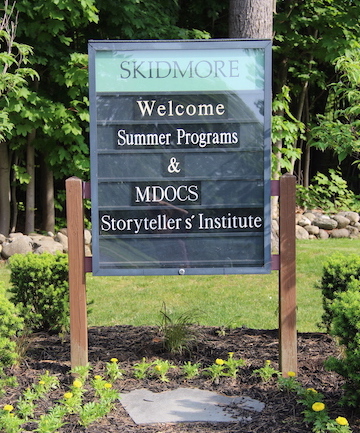 Storytellers' 2016 ... and 2017!
Over the summer, MDOCS students and visiting documentarians had an amazing second Storytellers' Institute with a constellation of fact-fiction storytellers who visited or were in residence in June and took part in the inaugural Festosium weekend and exhibition at the Spring Street Gallery. If you were away or missed the summer, get a taste of the experience—and learn what our students, faculty and community partners have been up to in the September 29 Storytellers' Institute Showcase. 2015 and 2016 Skidmore storytellers will present their project work from the summer and talk about how their work developed during the summer and where it is headed. We hope this event will be a chance for participants to reconnect and provide a preview for the 2017 institute, whose theme is Space and Place. Both at home and abroad, space unites and divides, is contested and challenged and provides the setting for documentary work. Applications for Skidmore's summer '17 programs will be due December 16; come learn what you can accomplish!
On Campus
On campus this fall, the Media and Film Studies Program and MDOCS bring back the Ethics Bowl on September 27, introducing students to the legal and ethical context they need to understand to undertake work in the field and providing a common framework for conversation in classroom and in the field.
In addition, public events preview our conversations about the role of space and place through the fall series of Doc Dates. Through the theme of "portrait and biography" in documentary work, Erika Schielke, Daesha Devón Harris and Adam Hall situate audio, photography and film work in the Adirondacks, Saratoga Springs and on the road to tell stories of environmental research, belonging and changing vision. Join them one Monday each month as they share the stories they have found and discuss how they approach portrait and biography in their work. We are fortunate to have Lucas Willard (WAMC), Robert ParkeHarrison (art) and Nicky Tavares (Vis/MDOCS Mellon fellow) to moderate our conversations.
Community Partnership
Stories that matter to the broader community are taking us downtown on October 13 to screen a new documentary film When War Comes Homein partnership with the New York State Military Museum and Veterans Research Center. Emmy Award-winning filmmaker Michael King will host a conversation with local war veterans about the growing awareness of the impact of PTS and the resources offered to service men and women returning home from active duty. King will reprise the film in Albany on October 14.
They're also bringing a Skidmore parent and rock 'n roll photographer to share his story of Chasing the Light with bands including the Grateful Dead, coming November 1.
Supporting Doc on Campus
And as always, MDOCS supports not only students enrolled in classes but projects being developed across campus by students, faculty, staff, retirees and beyond. LIB 113, MDOCS' lab, has opened its doors for another semester of support for individuals and classes with staffed office hours by students skilled in interview, design, production, workshops in evenings and on weekends. Alumus Eric Jenks will lead a Photo 101 Workshop on Friday, October 28 from 2 to 4 p.m., and MDOCS is collaborating with the Center for Leadership in Teaching and Learning (CLTL) on faculty-to-faculty workshops on using audio tour guides, web design and mapping in the classroom. Details on the Events page.
Jordana Dym
Director