Indoor Waterpark
Field Trip

Treasure Hunt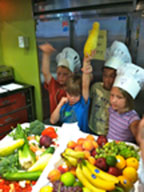 Future Chefs

Sing-Along
Please note, as of March 5, 2015 the following session are FULL. If you would like to be placed on a waiting list of any of the FULL sessions, please contact Debbie Amico at 580-5596 or email damico@skidmore.edu.
Evergreens – ALL SESSIONS
Redwoods – ALL SESSIONS
Watch this site for the online application to become available on March 11, 2015. If you are a Skidmore College employee or returning camper, watch your e-mail for your advanced registration notice.
The program draws on the rich and varied resources of Skidmore College and the surrounding area. The camp's home base is Falstaff's Pavilion on the Skidmore College campus, but campers frequent the Williamson Sports Center, Schick Art Gallery, Tang Teaching Museum and Art Gallery, and Zankel Music Center. The daily enrichment activities led by the qualified staff are supplemented by weekly field trips to recreational and historical sites, and visits by special guests.
Children will also enjoy activities that include arts and crafts, ceramics, games, hiking, and daily swim time. Our goal is to provide a variety of fun activities that happily challenge the imagination, intellect, and body. We hope you will join us this summer.
*Please Note: Campers must be entering 1st grade and be six years old by December 1, 2015. Due to the popularity of this program, and our desire to be fair to the local community, campers may attend Camp Northwoods for a maximum of 6 summers.
Our online application makes it easier than ever to register and pay online. Parents will receive immediate confirmation when they register their camper - no more waiting! Registering for more than one child has been made easier too.
Please Note: A $40 (nonrefundable) application fee for each camper and a 50% deposit is required at the time of registration. $100 per camper, per session of your 50% deposit is nonrefundable. Your 50% deposit will be credited towards the cost of tuition, and $100 of your deposit (per camper, per session) will be forfeited if registration is canceled or changed for any reason.
Please refer to the Fees & Payment Page for further details.