2020-2021 Guest Artists
Ephrat "Bounce" Asherie, Spring 2021 Guest Artist:
Ephrat "Bounce" Asherie is a New York City based b girl, dancer, and choreographer and a 2016 Bessie Award Winner for Innovative Achievement in Dance. Asherie has received numerous awards to support her work including Dance Magazine's Inaugural Harkness Promise Award, the Jacob's Pillow Fellowship at the Tilles Center for the Performing Arts at LIU, and a Jerome Foundation Travel and Study Grant. Last year, she received a National Dance Project Award to support the development and touring of her newest work, Odeon. Asherie is also the recipient of a Mondo Cane! Commission from Dixon Place, a Creative Development Residency from Jacob's Pillow, Workspace and Extended Life Residencies from the Lower Manhattan Cultural Council and two residencies through the CUNY Dance Initiative. Asherie is a regular guest artist with Dorrance Dance and has worked and collaborated with Doug Elkins, Rennie Harris, Bill Irwin, David parsons, Gus Solomons Jr., and Buddha Stretch, among others. She earned her BA from Barnard College, Columbia University in Italian and her MFA from the University of Wisconsin-Milwaukee where she researched the vernacular jazz dance roots of contemporary street and club dances. Asherie has been on faculty at Wesleyan University and set pieces for students at Smith College, SUNY Brockport, Alvin Ailey Dance Center, University of Texas Rio Grande, Old Dominion University and teaches at Broadway Dance Center. Asherie is a co-founding member of the all-female house dance collective, MAWU and is forever grateful to the NYC's underground dance community for inspiring her to pursue a life as an artist.
Shakia Barron, Spring 2021 Guest Artist:
Shakia Barron is a choreographer, performer and dance educator whose work is rooted in the African Diaspora, focusing on hip-hop, modern and traditional African dance forms. She is an MFA candidate in choreography at Wilson College. Her other dance training includes the Bates Dance Festival, Jacob's Pillow and Pioneer Valley's Performing Arts Charter School.
Barron has choreographed and directed more than 50 hip-hop, modern, African and lyrical works that have been performed at Trenton Educational Dance Institute, Rider University, the Princeton School of Ballet and the Bates Dance Festival. She has performed for numerous hip-hop events and has opened for concerts by Fat Joe, Jadakiss, 112, Charlie Baltimore, Kima from "Total" and Omarion. In 2005, she choreographed a hip-hop number for the Celtics/NBA halftime show. Barron has toured nationally and internationally, dancing with Face Da Phlave Entertainment and Illstyle & Peace Productions. Recently, she made a guest appearance with Rennie Harris PureMovement.
As a dance educator, Barron spent four years teaching at the Bates Dance Festival and more recently teaching community classes at Jacob's Pillow. Her recent work, titled "Our House," was selected to be performed for Community Day at Jacob's Pillow. Prior to joining the Five Colleges program as a full-time faculty member, she served as an adjunct at Mount Holyoke, Smith and Connecticut colleges. Barron was also the 2019 Arthur Levitt Jr. '52 Artist-in-Residence at Williams College.
Antonio Brown, Spring 2021 Guest Artist:
Antonio is the artistic force behind AntonioBrownDance, a native from Cleveland, Ohio, where he began his dance training at the Cleveland School of the Arts and received his BFA from The Juilliard School. While there,he had the opportunity to perform works by Jose Limon, Ohad Naharin, Jiri Kylian, Eliot Feld, Aszure Barton, Jessica Lang, Susan Marshall, Larry Keigwin, among others. Mr. Brown has also worked with many companies and artists throughout New York City including Camille A. Brown & Dancers, Malcolm Low/Formal Structure and Sidra Bell Dance New York, among others. After performing with the Bill T. Jones/Arnie Zane Company for 11 years, Antonio continues to grace the stage with The DASH Ensemble and his own company "Antonio Brown Dance". Mr. Brown has choreographed works for Verb Ballets, The Juilliard Dance Ensemble, MOVE(NYC), August Wilson Center Dance Ensemble, Jacksonville University, Cleveland State University, Hunter College, Cleveland School of the Arts, Stivers School for the Arts, Perry Mansfield Performing Arts School and Camp, Lehigh Valley Dance Exchange "LVDE", Theatre Askew, The Arden Theater Company's production of "The Bluest Eye", Drama League Director Fest, Earl Mosley's Dancing Beyond and Associate Choreographer for upcoming Broadway musical "Black No More". Antonio teaches regularly in New York City and is currently co-director of Tri-C Creative Arts Dance Academy, movement director for The Public Theater's Shakespeare Initiative and faculty at Actors Studio Drama School at Pace University and Cleveland State University. Mr. Brown is grateful to be sharing his gifts and talents around the world.
Peter Chu, Spring 2021 Guest Artist:
Peter was born in the Bronx, NY, & raised in Cocoa Beach, Florida, Peter began his training as a competitive gymnast, later nurturing his artistry at Dussich Dance Studio. Upon graduation from The Juilliard School, he performed with BJM Danse, EZdanza, Aszure Barton & Artists, Kidd Pivot, & in Celine Dion's Vegas spectacular, A New Day. Peter can be seen as the lead in Christina Perri's Jar of Hearts music video. In 2008, Peter formed a Las Vegas project based dance company, chuthis., which showcases the work of Chu & his collaborators. chuthis. also provides movement education programs which foster technical & artistic development. Chu has been an honoured recipient of choreographic awards & commissions, including the Hector Zaraspe Prize, A.C.E. Capezio Award, & Hubbard Street Dance International Commission Project. He was also named a Blodgett Distinguished Artist by Harvard University for 2018. Additionally, Chu has served as the Rehearsal Director for Nederlands Dans Theater 2, and as a Guest Rehearsal Director for NDT1. Chu has created works for Hubbard Street Dance Chicago, Charlotte Ballet, Staatstheater Augsburg, Germany, Orlando Ballet Theatre, Hubbard Street 2, Giordano Dance Chicago, Charlotte Ballet II, SYTYCD, Houston MET Dance, New Dialect, SALT Contemporary Dance, HSPro, Harvard University, Point Park University, & The Juilliard School, among others. Last season, Chu premiered works for Giordano Dance Chicago & Gibney Dance Company, and choreographed for Cirque du Soleil's Vitori in Malta. He is currently commissioned to create for Paul Taylor Dance Company, and is developing a new work with his own company, chuthis.
Wendell Gray II, Spring 2021 Guest Artist:
I am a contemporary dance artist and choreographer currently based in Brooklyn, NY. Raised in Atlanta, GA, I was surrounded by the arts at a young age. I attended Dekalb School of the Arts where I studied dance, vocal music, drama, musical theater, media, and music production. During my time in high school, I also attended DanceMakers of Atlanta under the direction of Lynise Heard and Denise Latimer. In the Spring of 2015, I graduated from The University of the Arts with a BFA in Dance, under the direction of Donna Faye Burchfield.
I've had the honoring of performing with many choreographers including Pavel Zustiak, Joanna Kotze, Jonah Bokaer, Jumatatu Poe, Maria Bauman, I-Ling Liu, Slowdanger, Helen Simoneau, Christal Brown, Netta Yerushalmy, Esther Baker- Tarpaga, J Bouey, Janeill Cooper, Cindy Salgado, Hollis Bartlett + Nattie Trogdon, and Pheobe Berglund.
I have shown my choreographic work at the University of the Arts, Movement Research at Judson Church, Center for Performance Research, Chez Bushwick, La Mama Galleria, Capezio ACE Awards, and Bronx Academy of Arts and Dance. Upon graduating in 2015, I was granted the Pennsylvania Ballet Choreography Award by Michael Sheridan. This gave me the opportunity to set work on Pennsylvania Ballet II + Philadanco II. I've also choreographed works for Periapsis Music and Dane, Southeast Alabama Dance Company, and will be premiering a new work with MICHIYAYA Dance for their 2020-2021 season. I have also been a guest teacher at Broadway Dance Center and Mark Morris Dance Center.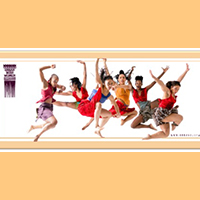 Urban Bush Women, Spring 2021 Guest Artist:
BOLD (Builders, Organizers, & Leaders through Dance) has been at the forefront of activating the intersections of professional & community art-making, civic engagement, leadership, and group dynamics for over two decades.
BOLD is Urban Bush Women's unique approach to facilitating a dialogue within an organization. We facilitate multiple workshop possibilities for a variety of different groups and contexts from dance studio to board retreat, using a unique blend of dialogue and movement.
Leveraging dance as a catalyst for social change & consistently seeking the broadest range of engagement possible has led UBW to train rigorously in dialogue facilitation, analyzing racism and its manifestations in group dynamics, and in the field of brain compatible dance education (a holistic practice rather than dance instruction as mimicry)—in addition to concert dance technique & performance.
Doug Varone and Dancers, Spring 2021 Guest Artists:
Doug Varone and Dancers will offer virtual classes to modern dance and choreography students in the Dance Department the week of February 20—25. The award-winning choreographer will host a virtual public showing at 7 pm on Saturday, February 20 discussing his 2019 work, Somewhere, set to the orchestral selections of Leonard Bernstein's iconic masterpiece West Side Story. Co-sponsored by the Office of Special Programs and the New York State Council on the Arts.