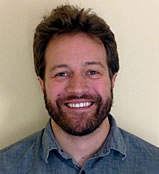 Nicholas Junkerman

Assistant Professor

B.A., Oberlin College
Ph.D., University of California, Berkeley
Office: Palamountain 306
Phone: (518) 580-5161
Email: njunkerm@skidmore.edu
Teaching and Research Interests:
Early American Literature
American Religion
Disability Studies
Literature and the Supernatural
Courses Taught:
EN 105: Utopia/Dystopia
EN 110: Introduction to Literary Studies
EN 226: Introduction to American Literature
EN 229: The Supernatural in America Literature
EN 362: Captivity
EN 364: Mystery (co-taught with Sonya Chung)
Publications:
"The Birth of Population" Review of Counting Bodies: Population in Colonial American Writing, by Molly Farrell, Commonplace, 17:3.5. (forthcoming)
"Confined Unto Low Chair": Reading the Particulars of Disability in Cotton Mather's Miracle Narratives." Early American Literature 52.1 (2017): 53-78.