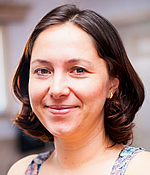 Nurcan Atalan Helicke
Assistant Professor Environmental Studies and Sciences Program
Contact Information:
Office: Harder 193
Phone: x8372 (off campus: 518-580-8372)
E-mail: natalanh@skidmore.edu
EDUCATION
Ph.D. Ohio State University, Geography
M. A., Bilkent University, International Relations
B. A., Middle East Technical University, International Relations
COURSES TAUGHT AT SKIDMORE
ES100 Environmental Concerns in Perspective
ES252 Political Ecology (service learning course)
ES352 The Politics of Food
ES352 Global Environmental Governance
ES352 Environment and Development in the Middle East (a NW course)
RESEARCH INTERESTS
Conservation of agricultural biodiversity
Pedagogies and sustainability
Development
Food movements
PUBLICATIONS
COLLABORATIVE RESEARCH
Eroglu, D. and N. Atalan-Helicke "An Alternative Eco-Friendly Agriculture: Snail Harvesting in Turkey and Extension Needs of Gatherer Families" ICSER-International Conference on Social Sciences and Education Research, October 29-31, 2015, Antalya, Turkey.
N. Atalan Helicke, J. Chang*, A. Durland, J. Inaba*, T. Johnson* "Service Learning as a Creative Pedagogy: Political Ecology and Urban Forests", poster presented at the Urban Forests and Political Ecology: Celebrating Transdisciplinary international conference. Toronto, Canada. April 18-20, 2013.
* denotes student authors