Skidmore College Emergency Medical Services
Skidmore College Emergency Medical Services (SCEMS) is a New York State basic life support-first response agency that provides high-quality and confidential emergency medical care to the Skidmore community. SCEMS is staffed and operated entirely by Skidmore students, who are trained and state-certified at the EMT level or higher. SCEMS provides emergency coverage Friday and Saturday between 8:00 p.m. and 8:00 a.m. SCEMS is also available for standby coverage for special events.
Our Mission
We strive to provide a high level of confidential and professional emergency medical care to the Skidmore community and to provide students with invaluable hands-on medical experience and leadership training that will follow them into their professional endeavors. Our Five Core Values of Professionalism, Trustworthiness, Dedication, Integrity, and Sensitivity enable us to reach achieve our mission on a daily basis.
Skidmore College EMS Contact Information
In an emergency
Call Skidmore Campus Safety at (518) 580-5566.
Campus Safety will dispatch SCEMS.
Non-medical queries
Office: The SCEMS office is located behind the Case Center Info Desk.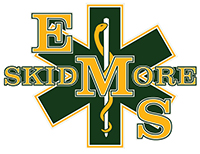 Announcements
EMT-B classes are held every semester for 2 credits. It is taught by a certified EMT instructor. You can learn basic medical and trauma care. It is posted on the master schedule under the interdisciplinary section.
CPR classes are also held on campus and provide hand-on training on how to use an AED and perform CPR. These classes are around two hours and are held over the weekends. At the end you will receive a CPR certification from the American Heart Association.