Ancillary Equipment
Drying Oven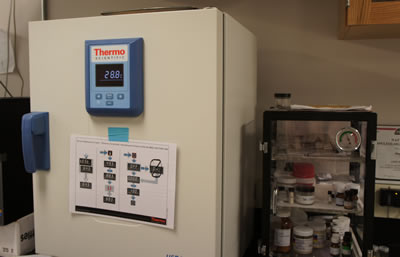 The Thermo Scientific Heratherm Heating and Drying Oven quickly and efficiently dries glassware and sample material for the SPA Lab. The SPA Lab has a model OGS60 general protocol oven that can be used for multiple drying applications from 50°C up to 250°C. The 60L oven uses gravity convection which provides gentle heating and drying for materials that are sensitive to airflow.
Furnace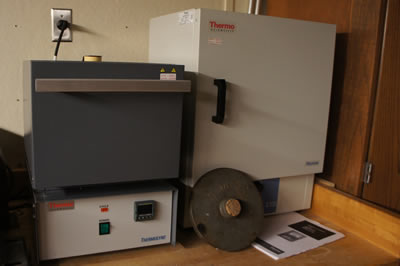 The SPA Lab has a Thermo Scientific Thermolyne Benchtop Muffle Furnace which is ideal for general laboratory use including gravimetric analysis, sintering, quantitative analysis and heat treating. The furnace reaches 1200°C at maximum temperature. Our F48010 model provides 5.8L of heating area along with a ceramic shelf to maximize the furnace's load capacity. The built-in vent port also removes contaminants and moisture to extend the life of the heating element and furnace.
Mortar and Pestle
The SPA Lab has multiple sizes of agate and ceramic Mortar and Pestle sets for grinding and mixing samples.
Sonicator
The SPA Lab sonicator is a PC620 Bransonic which is used in the lab for cleaning stalagmites, glass vials, metal ware, and other tools. The sonicator has a heating feature and the tank dimensions are 19.5" x 5.7" x 6".