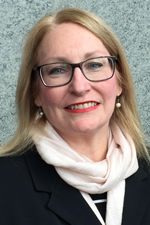 Hillarie Logan-Dechene

Lecturer of Arts Administration
Office: Filene 109
Phone: (518) 580-8073
Email: hlogande@skidmore.edu
Fall 2022 Office Hours:
Tuesdays, 4:00 pm-5:00 pm
Or, by appointment.
Bio Information:
Hillarie Logan-Dechene's career has been about building the capacity of non-for-profit
organizations. As The Wild Center's Deputy Director, and immediate past Director of
Philanthropy she works closely with the Executive Director and the Board of Trustees to
lead the museum. She is personally responsible for all membership and development
activities, marketing, education program, animal care and much of the day-to-day
operation of the museum. After studying at The American University in Paris and
earning her BA from the State University of New York at Albany, she worked in for-profit
marketing and public relations and then joined the Development Department at the
Adirondack Museum in Blue Mountain Lake where she worked for more than sixteen
years. She progressed from Development Assistant to the Director of Institutional
Advancement. Upon leaving the Adirondack Museum in 2006, Logan-Dechene became
the Vice President for Institutional Advancement at Paul Smith's College, a private
college in the Adirondacks. Logan-Dechene began working at the at The Wild Center in
2010, and led the Center through a successful $23 million fundraising campaign. She is
an adjunct professor in the Arts Administration Program at Skidmore College, and has
been an invited guest lecturer at Syracuse University, Adirondack Community College,
and NYU.
Logan-Dechene is also Chair of Governor Cuomo's New York State Commission on
National and Community Service, which administers AmeriCorps in New York State and
she is an active board member the Museum Association of New York, and past board
member of Adirondack Health Foundation. She has a Masters of Arts in Non-Profit
Leadership and Community Sustainability from Skidmore College.