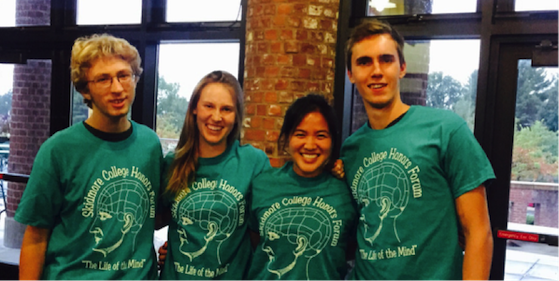 ADVANTAGES
Students and Staff enjoy the Honors Forum Induction Ceremony
There are tremendous academic and co-curricular benefits to being a member of the Honors Forum.
Honors Forum offers an enhanced intellectual community among students who are unusually active in pursuing the life of the mind and engaging in citizenship.

It is a hallmark of Skidmore education that daily campus life supports the learning processes that students encounter in the classroom, library, studio, and lab, and the Honors Forum strives to create these opportunities.

The Forum sponsors numerous programs, lectures, and trips throughout the semester. Recent trips include a visit to New York City to attend a Broadway show, a tour of the Metropolitan Museum, a visit to the Boston Aquarium, and a day at the Bronx Zoo.

Honors Forum has an annual banquet to recognize Service Requirements and receptions and informal get-togethers during the year for Honors students to mingle.

The Forum annually sponsors The Jon R. Ramsey Lecture where Honors students have the opportunity to nominate a favorite professor to give a talk specifically to students in the Forum.

Honors Forum students also run Shades of Gray, an interactive panel discussion on provocative topics (see Co-Curricular events).

HF students have the opportunity to preregister for Honors classes. This means an underclassman who is an HF member can successfully enroll in even the most popular classes.

The Honors Forum newsletter that every HF member receives provides a "head's up" on forthcoming events and a snapshot of current HF initiatives.

Beginning Fall 2012, HF students can apply to live in Wiecking Hall; see housing.

Students can learn about upcoming events on Facebook; All Honors Forum members will receive an invitation to join the group, where you can meet and interact with other members.

Honors Forum students have a lounge located in Ladd 321. (Each HF student can ask the department assistant for the combination to the keypad lock.) An ideal place for studying and relaxing, it contains comfortable couches and a white board for your use. In addition, it holds a newly created library and a new member profile book to help you know members of the HF community. Please respect this communal space.

HF shows up on your transcript as a minor. All incoming students receive a special HF mug, and all graduating HF students receive a medal to wear at graduation.
HONORS HOUSING
We now offer, Honors Forum in conjunction with Residential Life is offering housing to sophomores, juniors, and seniors in Wiecking Hall. Members who apply to live in HF housing must complete their Service Requirement during the Fall or Spring semester; if an HF student completes the Service Requirement, he or she, if accepted to live in this building, is expected to mentor other students completing their Service Requirements. To apply for Honors housing, CLICK HERE. For any questions, please email lbradsha@skidmore.edu.