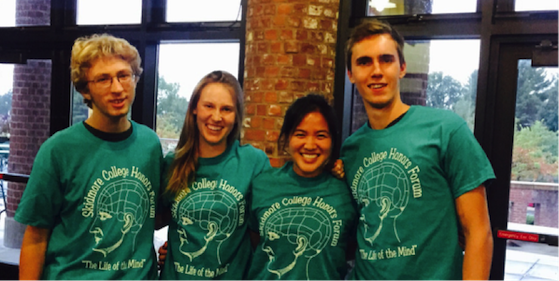 STUDENT GOVERNANCE
One of the hallmarks of the Honors Forum is the degree of student involvement in policy making and planning.
Student Executive Committee
The Student Executive Committee or Exec Co, as we commonly call it, is the student governing body of the Honors Forum. The Executive Committee provides leadership and direction to members of the Honors Forum. Exec Co consists of the Honors Forum President, Vice Presidents, Social Media Coordinator, and other positions.
Exec Co's members report to the Honors Council and have the following responsibilities, many in conjunction with the Council:
Plan and publicize co-curricular events: receptions, faculty-student discussions, study nights, trips, and informal get-togethers.

Work with SGA, College clubs and organizations, the Admissions Office, and Alumni Affairs.

Meet with students about Forum-related issues.

Help coordinate the annual Spring HF induction and the final HF banquet.

Represent the Forum during prospective and Accepted Candidates Days.

Participate in the coordination of Academic Festival.