Director's Note: February, 2016
February 26, 2016
With spring semester under way, MDOCS students, faculty and staff are hard at work on this semester's projects, planning for Storytellers' Institute (2016), and engaging with a wide range of documentarians on campus and in the community. Whether editing their own films, reflecting on visiting documentarians' career trajectories, getting insight into faculty's documentary watching and listening picks or interviewing alumni in the field, students are making connections.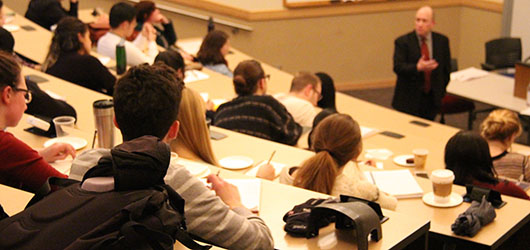 MDOCS/MFS Ethics Bowl, February 18, 2016 with Scott Mulligan ("Legal Concerns"),
Beck Krefting ("Disciplinary Approaches and Oversight") and Jordana Dym ("Self, Subject and Releases")
MDOCS hosted its first Ethics Bowl in collaboration with the Media and Film Studies Program, is working with Academic Technologies and the Center for Leadership in Teaching and Learning on developing web-based assignments and sponsored workshops in interviewing for oral history with Eileen McAdam and event photography with Eric Jenks.
Documentary film screenings are plentiful for the doc film buff as well—whether Bob ParkeHarrison's hosting of Salt of the Earth in January and a fine-cut screening with an area filmmaker ready to go on the festival circuit or a visit with Youth FX's award-winning teenage filmmakers and program director Bhawin Suchak March 1 or the International Student Union and Pride Alliance's screening of Oriented with participant Khader Abu Seif (coming in March). More are yet to come.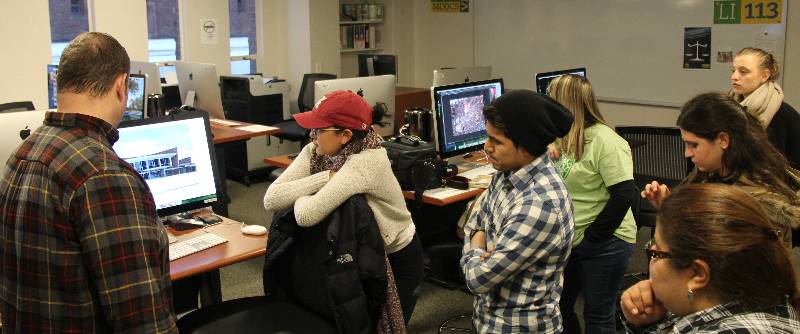 Event Photo Workshop with Eric Jenks
February 12, 2016
Over winter break, thanks to Off Campus Study & Exchanges (OCSE) and the Office of Advancement, I had the opportunity to "scout" a little in Florida, Utah, California and New York, getting to know and reconnect with some of Skidmore's far-flung network of professionals in film, television, museum and web-based storytelling. First stop: Florida. I first met Laura Juncadella '11 as an international affairs major with a longstanding interest in Cuba.
So when a history/doc studies travel seminar to Cuba explored Miami and Little Havana in early January, it was a delight to connect her with 12 Skidmore and six St. Lawrence students on the way to "La Habana." Thanks to an audio storyteller in the group, we can share her story about how she'd followed her dream of working in documentary media to Miami-based Fusion, a startup online journalism/documentary platform with hard-hitting stories, with a producer who knew the value of her liberal arts training. (For those on campus, look for "How Was Cuba?," the students' reflection on their experience in an exhibit March 23–29 exhibit in Case Center Gallery.)
Next stop: Utah, a stop where Advancement organized an alumni reception at Sundance Film Festival, drawing in friends and family and showcased two alumni with films in competition, one doc—Danielle Rosen '06 (Kate Plays Christine)—and one narrative, (Swiss Army Man). It's true what they say: There's a lot going on. From finding a fabulous virtual reality experience to bring to Storytellers' Institute, to meeting a Swedish film distributor and a Lebanese filmmaker while standing in line, to chatting with Kickstarter about funding strategies, to attending a Latino Reels discussion of access issues and solutions in media careers, there was plenty to do before watching the films. Clearly, Sundance and other festivals have a lot to offer students, and we're putting on thinking caps back on campus on ways to connect and build a meaningful experience with some events close to home, as well as those an airplane ride away.
The journey wrapped up, for now, with discussions in both Los Angeles and New York City with a range of practitioners on next steps for MDOCS. Who better to tap for advice on what skills and interests paved the way for careers in front of and behind the camera and microphone, writing the stories that make a difference, curating cutting-edge exhibitions, and making sure the legal T's are crossed and I's are dotted?
And (not to brag but...) we've passed a milestone on Faceebook: 200 likes. Thanks for the interest; we love the company and hope to keep growing.
Jordana Dym
Director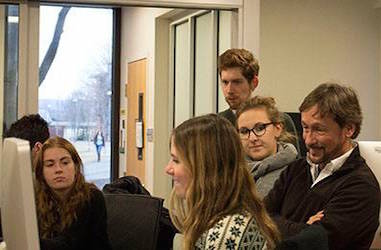 Adam Tinkle, Intro to Audio Doc.
Ron Taylor, Video Projects.
Photos J. Wakeman