Student Highlight: Emma Foley '16
February 26, 2016
Emma Foley has taken on a challenging doc film project, telling the many stories of the loss of one's virginity. The challenge comes not only in getting people to talk about the intimacy of the subject while respecting their anonymity, but also in unwrapping the stigma surrounding this popular topic for teens and young people. Like many difficult subjects, a person or a small group has to speak up first to begin the conversation.
As Foley states, "If this is something that's being talked about and something that's being felt by other people, I think that it's less alienating than the traditional concept of 'the perfect way you lose your virginty.'" The project has been created as a series of short films or "chapters" which have the ability to be added onto for years to come, but Foley hopes to have a solid collection of stories told within the next few months.
She is ready to start making the connections necessary to break the ice on this sometimes difficult conversation, sharing that "I have a little sister who's 14 years old and she hates when I talk to her about this stuff, but her and her friends ... that's who I want to see this."

Listen to the 6 minute interview clip of Emma Foley speaking with Emily Rizzo '18 about her experience in creating this project.

Emma Foley, '16 is an anthropology major and media and film studies minor. She is currently working on this project in DS 302 Documentary Video Projects with Ron Taylor.
Film Still #1: "Since losing that really traditional documentary interview style, I have gotten the chance to be more creative in the process and leave more room for interpretation."

Film Still #2: I'm shooting completely non-narrative footage of bedrooms, and bathrooms and shadows on the wall, and things that can be interpreted by the viewer."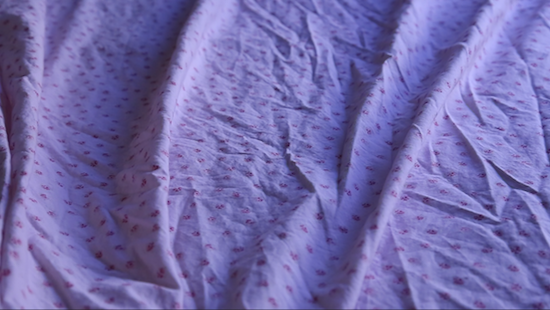 Film Still #3: "I'm still figuring out how I can be more visually interesting when I'm shooting a bunch of objects on a bedroom desk."