Skidmore Mindfulness
About the Skidmore Mindfulness Program
Zen Retreat Day
April 15 2023 at Skidmore College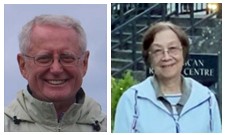 We are excited to host Roshi Robert E. Kennedy, S.J. and Sensei Amy Yee from Morning Star Zendo and Russ Michel of White Plains Zen. Spend a day practicing Zen with visiting teachers. The day includes sitting meditation (zazen), walking meditation (kinhin), chanting, teacher talks, lunch, and an opportunity to ask questions at the end of the day. No experience necessary; beginners and long-term meditators are all welcome. Please register only if you can attend the full day (full details TBA, expected to be about 9am - 4pm). Registration for Skidmore Community members and off-campus participants will be shared soon. A $20 registration fee includes lunch and tea breaks. Fee waivers are available for Skidmore Community members (contact Parker Diggory, kdiggory@skidmore.edu).
To receive updates about registration or lean more about the program please email Holley Hodgins, hhodgins@skidmore.edu or the ORSL, orsl@skidmore.edu. This program is sponsored by the Office of Religious and Spiritual Life.
Skidmore Mindfulness Program
Fostering wisdom, compassion, stress reduction and well-being on campus through meditation and mindfulness programs, weekly yoga asana classes, workshops, and events.
Open to the many different traditions that explore these practices, both spiritual and secular. There is something for every person and every body, no matter what your life path may be. We aim to be inclusive and accessible to all. If you need an accommodation to help make that happen, please do not hesitate to be in touch.
On this page you will find more information about some upcoming events and on-going programs. Should you have any questions or ideas or if you would like to join the Mindfulness Program email list please contact us: orsl@skidmore.edu
Regular Schedule
The Spring 2023 schedule is now available! See the full ORSL weekly schedule, including Mindfulness Program gatherings, here. Sign up to receive schedule information and other updates from the Mindfulness Program by emailing Parker Diggory or by filling out the Religious and Spiritual Life Interest Form.
---
Yoga
Classes are deeply grounded in yogic tradition and taught by trained instructors. They are open to all Skidmore students, regardless of experience or spiritual background. Classes normally take place in Wilson Chapel multiple times per week and mats are provided.
Spring 2023: Sundays, Tuesdays, and Thursdays 5-6 pm at Wilson Chapel. RSVP on SkidSync if you would like to receive updates about any schedule changes or cancellations for specific classes.
---
Mindfulness & Meditation
Guided Meditation: Ever weekday during the academic year. 4pm in Case 205.
Join for twenty-minutes of guided breathing and mindfulness meditation. Newcomers welcome.
Open Meditation Space: Drop-in space for meditation is available in multiple locations around campus and additional space can be arranged if you find yourself needing space further from these locations:
Library 111: This room in Scribner Library is available for drop-in use for prayer, meditation, and reflection any time the library is open (which often includes late night!). Meditation cushions, chairs, and prayer rugs are available.
Wilson Chapel: Whenever the space is not otherwise reserved (including most mornings). Specific time can also be reserved for meditation use by contacting ORSL. Meditation cushions, chairs, and prayer rugs are available.
Case 309 (new location as of Fall 2022 starting September 7th): 8-10 am and 5-10pm every weekday, all day on weekends. Located on the 3rd floor of Case Center near the Wellness Center. Meditation cushions, chairs, and prayer rugs are available.
Have a question about access or schedule before the semester starts? email us: orsl@skidmore.edu
Body Scan Meditation | Loving Kindness Meditation
---
Zen MEDITATION
Wednesdays @ 6:25 PM in Wilson Chapel, open to students, staff, faculty, and visitors
Schedule note: This gathering takes place most Wednesdays throughout the year, including the Summer months. However, there are some weeks when we pause from gathering or change locations so be sure to confirm the schedule through the Mindfulness Program updates or by contacting Holley Hodgins or the ORSL.
The Zen gathering at Skidmore College brings together longtime practitioners and newcomers with experienced leaders from Skidmore and the local community. Individuals of all religious backgrounds are welcome. Newcomers please try to arrive before 6:25 pm, as we offer basic Zen meditation instruction for first-time attendees promptly at 6:30 pm. Late-comers are welcome to enter quietly. We sit two periods interspersed with walking meditation, typically ending by 7:45. Cushions, meditation benches, and chairs are provided; wear comfortable, loose-fitting clothing. Questions? Contact Holley Hodgins for more information.
---
Prayer & Reflection
Mindfulness practices come in many forms and from many traditions. Join us and our partner clubs and communities for the practice that feels right for you or take advantage of open time in Wilson Chapel or Case Center to take time for yourself. See the Religious and Spiritual Life weekly schedule for the current schedule of gatherings including the events listed above, prayer gatherings, discussion groups, religious services, and more.