Student Wellness Center
Fall 2022 Hours
Monday 10-4
Tuesday 10-4
Wednesday 10-4
Thursday 10-4
Friday 10-3

Stay tuned for the therapy dog schedule!
The Student Wellness Center is a student-staffed space where students can seek support and resources from trained peer health educators about a range of health topics. Peer health educators receive training in health-related topics that are most often relevant to the college population, including alcohol and other drug use, mental health, stress management, sexual health, sexuality, sexual and gender based misconduct, nutrition, sleep, disordered eating and more. Additionally, the Student Wellness Center has a library of materials that students are welcome to borrow.
Peer health educators are peer-to-peer anonymous resources for students wishing to discuss issues related to sexual and gender based misconduct. If you have experienced sexual or gender-based misconduct and would like more information about resources and reporting, please visit the SGBM website. If you are concerned about your safety, please contact Campus Safety at 518-580-5566 for immediate assistance.
The Wellness Center also has supplies available for purchase: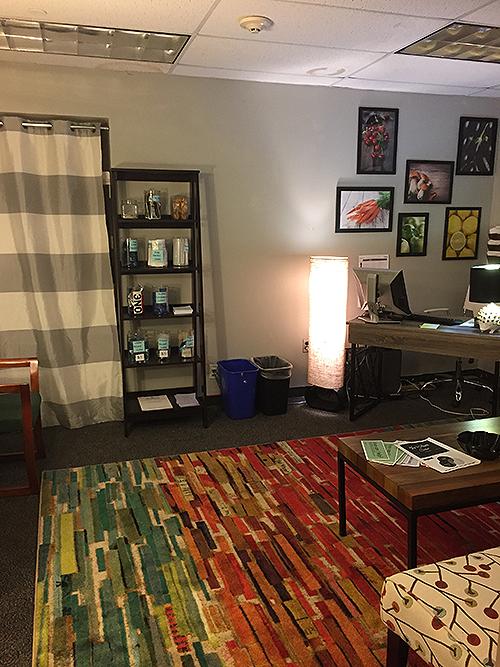 condoms: 10 for $1
lubricant

pillow samples: free
water-based: $3
silicone-based: $5

dental dams: free
pregnancy tests: $3
To speak to or make an on-campus appointment with a confidential Wellspring advocate for issues of sexual misconduct, relationship abuse, stalking or other issues related to sexual and gender-based misconduct, please contact the Wellspring Hotline at 518-584-8188 and ask to speak to the Skidmore advocate.
Student Wellness Center 2021-2022 Overview
We had a total of 1,502 visits during the 2021-2022 academic year. Therapy dogs continue to be a huge draw to the Wellness Center and we were able to maintain 7 hours of therapy dogs per week throughout the academic year. In addition to our regular services we ran a variety of small programs out of the Center including Beat the Bug (illness prevention, flu shot promotion, self-care campaign), and a promotional campain to encourage help seeking and knowledge about resources.
Fall 2021 Wellness Center Visits
Spring 2022 Wellness Center Visits

664 total visits:

13.1% Product Sales
15.4% Peer-to-peer counseling
18.2% Events/other (ex/ AOD education)
53.3% Therapy Dogs

838 total visits:

12.9% Product Sales
11.3% Peer-to-peer counseling
12% Events/other (ex/ AOD education)
63.8% Therapy Dogs