Dean of Students and Vice President for Student Affairs
The Dean of Students and Vice President for Student Affairs oversees a broad range of programs and services designed to promote academic success, cocurricular life, and personal development.
If you are uncertain whom you should contact about a specific question or a problem, the Dean's office can help you get in touch with the right office staff.
Cerri A. Banks
Dean of Students and
VP for Student Affairs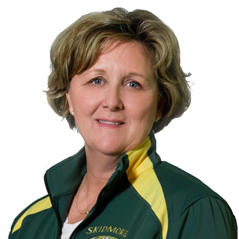 Gail Cummings-Danson
Assistant VP for Student Affairs and Director of Athletics
Lorri Riggs
Assistant Dean of Student Affairs for Student Success
518-580-5788
Student Affairs Division
Mission Statement
In support of Skidmore College's mission, "to educate a diverse population of talented students," the Division of Student Affairs works with all College departments to create an integrated living and learning liberal arts experience.
We believe:
At Skidmore, everyone deserves access to the highest levels of excellence in education:
Learning is a communal endeavor where we all learn from and teach each other.
Learning happens in all dimensions: intellectual, emotional, physical, social, professional, and spiritual.
Learning is a dynamic and integrative process of exploration across barriers and divisions.
Learning happens everywhere and requires opportunities, challenges, disappointments, and defeats.
Learning promotes growth, transformation, and the continuous interaction and meaning making of self, other, and communities.
---
WELCOME BACK Skidmore
Hello, members of the Classes of 2021, 2022, and 2023, and welcome to the Class of 2024 and new transfer students!
My name is Cerri Banks, and I am the Dean of Students and Vice President for Student Affairs. I am thrilled to welcome you all to the 2020-2021 academic year at Skidmore. Everyone in Student Affairs hopes that you had an amazing summer doing things that fueled your soul and brought you joy even with the pandemic and the changes it requires. It has been quite an unusual summer here and many staff have been working around the clock to prepare the campus and welcome you back with health and safety as the top priority.
We are so fortunate to be able to continue with our residential learning. As you know, the pandemic has changed almost everything that we do. Our success and continuation this semester is dependent on strict adherence by EVERY SINGLE ONE OF US to the new policies, procedures, rules, and expectations. It also means that we will ALL have to use our voices to hold each other accountable and that when held accountable we respond with compliance and respect.
Below, you will find several links with important information that you need to read, understand, and follow in order to have a successful semester and remain on campus and/or have access to campus, including information about conduct and sanctions related to COVID 19. If there is anything that you do not understand it is your obligation to reach out to gain understanding.
IMPORTANT NOTES:
Here is a link to the pledge students have been asked to sign: https://www.skidmore.edu/orientation/secure/pledge.php.
Here is the text of the Pandemic Expectations: https://www.skidmore.edu/reslife/student-conduct/pandemic-expectations.php. This link appears under the "Social Policies" heading in the Student Handbook, as well as on the Student Conduct website.
Here is a grid of possible sanctions for failure to comply with the expectations: https://www.skidmore.edu/reslife/docs/covid-policy-grid.pdf.
Here is a link to a form that any community member may use to report alleged violations of these policies: https://cm.maxient.com/reportingform.php?SkidmoreCollege&layout_id=9.
TITLE IX CHANGES:
There have been changes to the Title IX Policy as it relates to sexual and gender -based misconduct (SGBM) based on the federal regulations released this summer. Thank you to those who participated in the Title IX forum. The link to the recording of the forum which outlines the significant changes to the policy is here: https://www.skidmore.edu/dean-students/ Here also is the link to Skidmore's updated SGBM website https://www.skidmore.edu/sgbm.
The new policy is in effect as of August 14, 2020. If you have questions or concerns please reach out to Joel Aure at jaure@skidmore.edu or Gabriela Melillo at gmelillo@skidmore.edu.
I am confident that this will be a great semester because I am confident in you! Let's set a goal together that we will do all we can to keep our community safe. Study hard, wear your masks, stay 6 feet away from each other, wash your hands, and send me your stories about ways you are meeting these goals.
Take care,
Dean Banks
Fall 2020 reopening student forum recordings
---
Important Information
Taxi and CDTA Bus schedules for Skidmore College
Student Opportunity Funds
Students may request financial support of worthwhile student co-curricular and leadership initiatives.
Submit your application to the Office of the Dean of Student Affairs, Case 313.
Please note the following submission deadlines:
Fall Deadline: Nov. 6, 2020
Spring Deadline: March 5, 2021