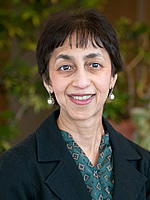 Pushkala Prasad
Contact Information & Background
Professor of Management, Zankel Chair,
Department of Management & Business
pprasad@skidmore.edu
Phone: 518-580-5238
Office: PMH 208
Vitae
Curriculum Vitae

Education
Ph.D., management, University of Massachusetts
MBA, Xavier Institute
B.A., history, Stella Maris College, University of Madras
Courses
IA 351 Faces and Phases of Global Capitalism
ID 221 Multicultural Flareups
MB 306 Foundations of Business in the International Environment
MB 336H Diversity and Discrimination in the American Workplace
Selected Refereed Articles
Smoke and Mirrors: Institutional Entrepreneurship and Identity Work by the U.S. Tobacco Industry, 1920-1945 (with A. Prasad & K. Baker), Organization, 2016. (forthcoming)


One Mirror in Another: Managing Diversity and the Discourse of Fashion (with A. Prasad & R. Mir) Human Relations, 64:703-726. 2012.


In the Name of the Practical: Unearthing the Hegemony of Pragmatism in the Discourse of Environmental Management (with M.B Elmes) Journal of Management Studies, 42: 845-867. 2005.


The Context of Third World Tourism Marketing (with C. Echtner). Annuals of Tourism Research, 30:660-682. 2003.


Stretching the Iron Cage: The Constitution and Implications of Routine Workplace Resistance. (with A. Prasad). Organization Science, 11: 387-403. 2000.


Everyday Struggles at the Workplace: The Nature and Implications of Routine Resistance (with A. Prasad). Research in the Sociology of Organizations, 15: 225-257. 1998.
Edited Books
Crafting Qualitative Research: Working in the Post-Positivist Traditions. (second edition). New York: Routledge, 2018. Translated into Japanese, 2017.


Routledge Companion to Critical Management Studies (Co-edited with A. Prasad, A Mills & J. Helins Mills). London: Routledge. 2016


Handbook of Workplace Diversity (co-edited with A. Konrad & J. Pringle). London: Sage Publications. 2006.


Managing the Organizational Melting Pot (with A. Mills, M.B. Elmes & A. Prasad). Thousand Oaks, CA: Sage. 1997.
Research Grants
Jan Wallander Foundation of the Bank of Commerce of Sweden (Handelsbanken) for $186,000. "Diversity Professionals in the Swedish Employment Sector. March 2010-Dec. 2015.


Swedish Quality of Work Life Foundation (Forsknings Arbetsliv), Stockholm. $240,000. "Managing Diversity as an Organizational Process. 2001-2006.


Social Sciences and Humanities Research Council (SSHRC) of Canada. $50,000. Diversity and Discrimination in the North American Workplace. 1995-1998.
Selected Guest Lectures and Invited Research Seminars
Institutional Entrepreneurship and Gender Identities in the U.S. Tobacco Industry. University of Massachusetts, Boston. April 2016.


Permission to Wander: Taking Interdisciplinarity Seriously in Organizational Research. Featured Speaker at the Kern Symposium for Business and the Liberal Arts, Rochester Institute of Technology, Rochester, NY, March 2013.


The Discourse of the Islamic Veil in Scandinavia. Fourth Annual lecture at CRED (Center for Research of Equality and Diversity). Queen Mary, University of London, November 2010.


Restoring Quality to Qualitative Research. Copenhagen Business School, Copenhagen, December 2006.


Dilemmas of Workplace Diversity. (Studieforbundet Narlingsliv och Samhalle) (Center for Business and Policy Studies) Stockholm, October 1999.


Speaking about Resistance: Routine Opposition under Conditions of Flexible Capitalism. Faculte des sciences de l'administration, Laval University, Quebec City, January 1999.