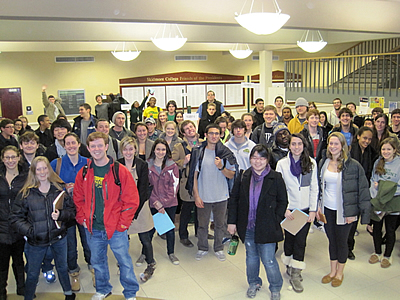 Student Achievements
Many of our students accomplish impressive goals and honors both at Skidmore and off campus.
Management and Business Awards
Linda G. Tanenbaum Memorial Prize (formerly known as The Seymour and Sylvia Goldman Memorial Prize)
Established by Jay H. Tanenbaum in memory of his wife Linda G. Tanenbaum. Awarded to the outstanding senior in the Department of Management and Business.
Julia Steeger '21
Naira Abdula '20
Damian Hammond '19
William Berg '18
Derrick Yam '17
Isaac Carp '16
Ezra Levy '15
Ni Fang '14
Catherine Lucky Chang '13
Raiza Nazareth '12
Haseeb Younas '11
The Jefferson Huff '88 Prize in Business
Established by the family and friends of Jeff Huff '88, and awarded to a junior or senior business student who has a distinguished academic record and has produced an outstanding project in business.
Matthew Muzyka '21
Brianna Worobel '20
Maeve Foley '19
Ran Tao '18
Makeda Diggs '17
Hannah Weaver '16
Cara Vanin '15
Jennifer Eiko Michelle Shonborn '14
Catherine Lucky Chang '13
John Douglas Morris '12
Spencer Cheng '11
The Gail Moran Morton '60 Prize
Awarded to a junior or senior whose excellence in the business major has been combined with a particularly broad liberal arts program of study, and who demonstrates the humanistic concern for personal and community relationships that embodied the spirit of the liberal arts and that we associate with the memory of Gail Moran Morton '60.
Isabel Grace Tobin '21
Sophia Fox '20
Edvinas Rupkus '19
Jack (John) Sloan '18
Georgiana Ager '17
Geoffrey Inaba '16
Mohannad Aljawamis '15
Anthony Steven Giacin '14
Kelsey Emily Yam '13
Aylin Riker Ceylan '12
Alexis Colley Green '11
The Outstanding Student in MB
(formerly known as The Wall Street Journal Award)
Awarded by the Department of Management and Business to a student whose outstanding academic achievement and interest in applied management have been evident throughout his or her academic career at Skidmore.
Xiaqing (Lily) Du '21
Edward (Ted) Roach '20
Cristian Fernandez '19
Ekaterina Vagina '18
Keldwin Taveras '17
Lyssa Jackson '16
Lauren Alexander '15
Rebecca Paige McCourt '14
Amanda Rose Hill '13
Julia Sloan Robins '12
Ian Taylor Ritchey '11
The Heck Award
Established in memory of Beulah Slocum Heck and awarded to the highest-ranking student in the Department of Management and Business.
Isabel Grace Tobin '21

Naira Abdula

'20
Maeve Katherine Foley '19
William Berg '18
Hannah Meehan '17
Hannah Weaver '16
Shuming Liu '15
Anthony Giacin '14
Catherine Chang '13
Diego Reinero '12
Corey Jarecki '11