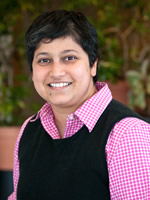 Minita Sanghvi
Contact Information and Background
Associate Professor of Marketing
Department of Management and Business
msanghvi@skidmore.edu
Phone: 518-580-5110
Office: PMH 261A
Vitae
Curriculum Vitae
Education
PhD: University of North Carolina Greensboro
Graduate Certificate in Feminist Studies: Duke University
M.S. in retailing and consumer sciences: University of Arizona
MMS: Narsee Monjee Institute of Management Studies (NMIMS)
B.Com: Narsee Monjee College of Commerce and Economics, India
Courses
MB 107 Business and Organization Management
MB 214 Foundations of Marketing
MB 351C Political Marketing
MB 351C Insight Driven Marketing: Theory & Practice
SSP 100 Sexing Politics
Research Focus
Political Marketing
Transformative Consumer Research
Gender and Race Discrimination in Consumptionscapes and Marketing
Dissertation
Marketing the female politician: An exploration of gender, appearance and power.

Published Works
Book:
Sanghvi, M. (2018). Gender and Political Marketing in the United States and the 2016 Presidential election: An Analysis of Why She Lost. New York, NY: Palgrave-MacMillian
Journal Articles:
Steinfield, L., Sanghvi, M., Zayer, L. T., Coleman, C. A., Ourahmoune, N., Harrison, R. L., ... & Brace-Govan, J. (2019). Transformative intersectionality: Moving business towards a critical praxis. Journal of Business Research.
Sanghvi, M. and Hodges, N. (2015). Marketing the female politician: An exploration of gender, and appearance. Journal of Marketing Management, 31(15-16), 1676-1694.
Book Chapters:
Sanghvi, M. (2019). Gender and Intersectionality in Political Marketing. In S. Dobscha (Ed), Handbook of Research on Gender and Marketing (pp. 294-313). Cheltenham, UK: Edward Elgar.
Sanghvi, M. (2014). Author/ Authority. In A. Takhar-Lail & A. Ghorbani (Eds.), Market Research Methodologies: Multi-Method and Qualitative Approaches (pp. 1-13). Hershey, PA: IGI Global.
Sanghvi, Minita, & Hodges, N. (2012). Understanding sub-cultural identity and consumption among Indians in the United States: From Desis to Coconuts. In Z. Gürhan-Canli, C. Otnes & R. Zhu (Eds.), Advances in Consumer Research (Vol. 40, pp. 462-468). Duluth, MN: Association for Consumer Research.
Sanghvi, M. (Accepted). Gender Theories in Political Marketing. In A. Matuskova (Ed), New Trends in Marketing and Politics. Prague, Czech Republic: Kranolium, Charles University.
Conferences, Workshops and Presentations
Sanghvi, M. (2015). Appearance Matters: Analyzing the role of appearance in Political Marketing. Academy of Marketing Conference, Limerick, Ireland.
Sanghvi, M., Dobscha S., Barnhart, M., Podoshen, J. McAlexander, B., McAlexander, J. Huff, A., Scheinbaum, A. (2015) Transformative Teaching at Transformative Consumer Research Conference at Villanova University, Pennsylvania.