Retiree Initiative Planning Group (RIPG)
The Retiree Initiative Planning Group (RIPG) is an informal group of volunteers devoted to fostering relations between the College and retirees in all employment categories. The group keeps up communication, including this website, and helps to plan programs, events and activities for retirees. An endowed fund to support these efforts, The Phyllis A. Roth Retiree Initiative Fund, was established in 2010 in honor of Phyllis Roth, Professor of English and former Dean of the Faculty, on the occasion of her retirement. In June 2012 Skidmore College received a $100,000 grant from the American Council on Education and the Alfred P. Sloan Foundation for its innovative work in faculty retirement; the grant is intended to be used during a two year period on initiatives that support faculty transitions to retirement. RIPG advises the College on the use of both funds.
RIPG keeps in touch with retiree organizations at other colleges and universities through Skidmore's membership in the Association of Retirement Organizations in Higher Education (AROHE).

From time to time, RIPG conducts surveys of Skidmore retirees to assess needs and interests. The results of a survey conducted in the summer of 2012 are summarized here.
You don't have to wait for a survey to share your thoughts! RIPG welcomes ideas and participation from all retirees at any time. To send suggestions or offer to help, email RIPG@skidmore.edu.
Retirees currently serving on RIPG are:
Sharon Arpey, former Director in the Office of Special Programs
Liz Bourque, former Special Assistant to the President
Terry Diggory, Professor Emeritus of English
Gove Effinger, Professor Emeritus of Mathematics
Ann Henderson, former Registrar
Susan Kress, Professor Emerita of English and former Vice President for Academic Affairs
Lynne Gelber, Professor Emerita of Foreign Languages and Literatures
Anita Miczek, former Assistant to the Director of Sponsored Research
Betty O'Connor, former Associate Director Enterprise Systems
Paty Rubio, Professor Emerita of Foreign Languages and Literatures and former Associate Dean of the Faculty
Andrea Wise, former Director of Campus and Media Relations
Joanna Zangrando, Professor Emerita of American Studies.
In addition, coordination with Academic Affairs and Human Resources is maintained through the participation of the following liaisons:
Janet Casey, Associate Dean of the Faculty for Diversity and Faculty Affairs
Laura Goodwin, Assistant Director for Benefits Administration
The Phyllis A. Roth Retiree Initiative Fund
Contributions to the The Phyllis A. Roth Retiree Initiative Fund are always welcome! Just indicate "Roth Retiree Fund" when you make a gift by any of the means described at the Giving website.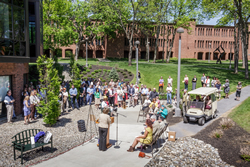 Dedication of the Phyllis A. Roth Memorial Garden, May 20, 2014. (Photo by: Phil Scalia)
Charles Joseph, Professor Emeritus of Music and former Vice President for Academic Affairs, offers words of appreciation before other speakers: Susan Kress, Professor Emerita of English and former VPAA; President Philip A. Glotzbach; and Ruthie Holmes, daughter of Phyllis Roth. (Photo by Phil Scalia)