Counseling Center Staff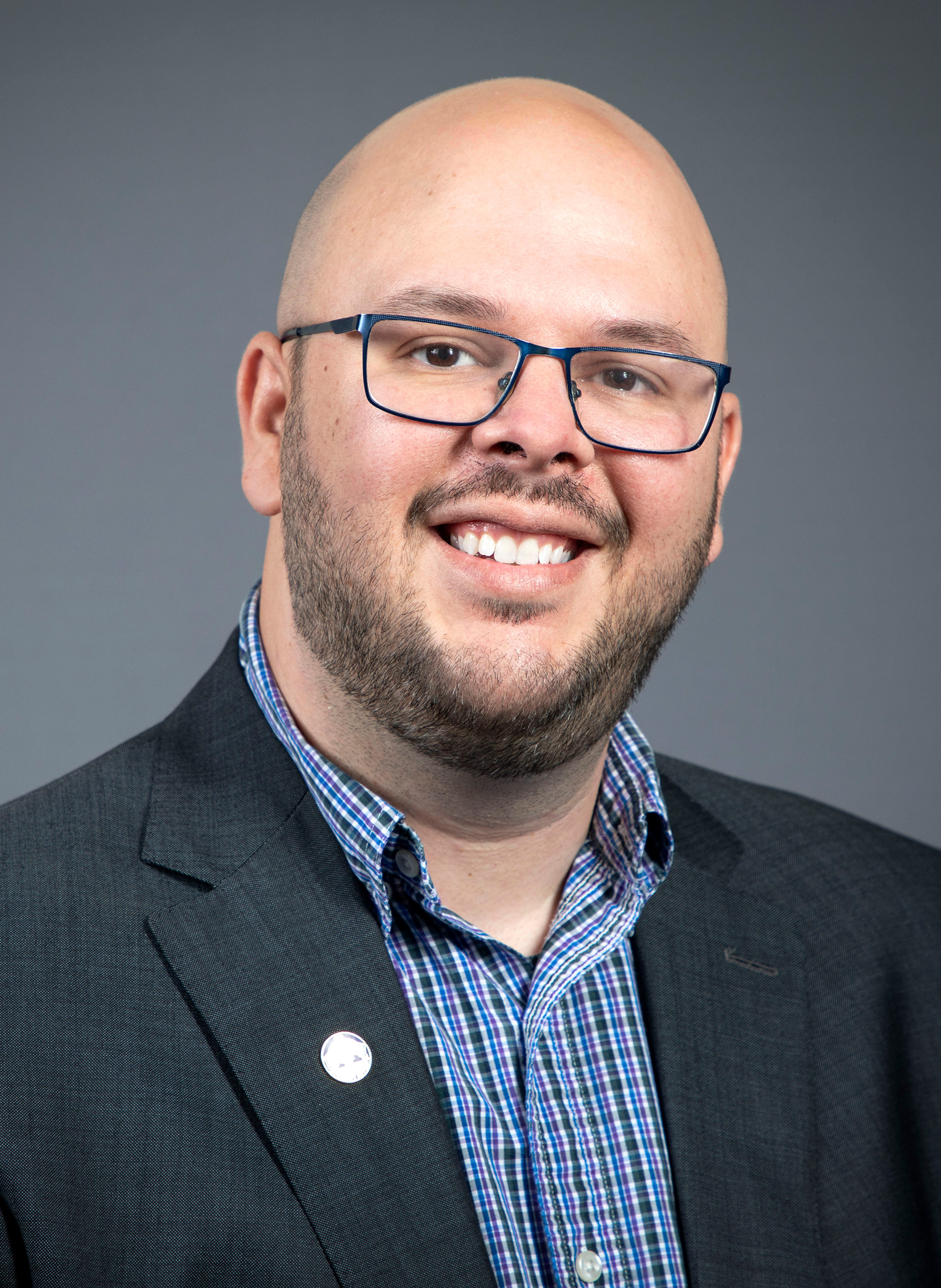 Robert Cardom, PhD, Director and Licensed Psychologist (He/Him)
Robert earned his PhD in Counseling Psychology from the University of Kentucky, where he completed research and clinical work focused on queer mental health, preventing suicide, and the benefits of racially diverse friend groups. Since, he has continued to focus on college student mental health, with a particular interest in sleep, coping with racial trauma and other identity-based experiences, and training therapists to keep a multicultural lens in their work. As a therapist, he finds meaning in the stories of students, changing the unhelpful deeply-rooted beliefs our experiences have forced us to internalize, and finding new ways of speaking to ourselves. He is also a proponent for healthy boundaries in relationships that ensure that our needs are met while respecting the needs of others. In the community he is an advocate for suicide prevention and mental health promotion, and he is excited to join the Skidmore Counseling Center's tradition of hosting the Out of the Darkness Walk. (Register at http://afsp.org/skidmore)
Jennifer (Jinny) Stanley, Office Coordinator (She/Her)
Jinny received her BS in Communications and Information Design from SUNY IT in 2015. She subsequently worked in the recycling field for several years as both an Account Manager and a Client Development Executive. Following a relocation to Saratoga Springs, she decided to make a career change and joined the Skidmore College Counseling Center as the Office Coordinator in October 2021. Jinny is a strong advocate for therapy and counseling. She knows from personal experience just how challenging it can feel to ask for help or guidance. Her personal goal as the Office Coordinator is to ensure that every person gets connected with the help they need and feels supported when they interact with the office.
Shai DeHoyos, LMSW, Staff Clinician
Shai earned her undergraduate degree in human development with a minor in Africana studies from Binghamton University. Most recently, she graduated from Binghamton University with her master's degree in social work. Shai has spent the last several years working with young adults in a higher education setting. Her areas of professional interest include working with students from marginalized communities such as students of color, first-generation students, the LGBTQ+ community, and students with an array of intersectional identities. Using a generalist approach, Shai incorporates solution-focused work with CBT, and DBT techniques to help students develop the necessary skills to succeed academically and socially.
Coleen K. Wright, LMHC, Staff Clinician
Coleen is a staff clinician at the Counseling Center. She received her Master's in Psychology from Naropa University and has a Master's in Teaching: TESOL Concentration from the School for International Training. Coleen is a Licensed Mental Health Counselor in New York State. Coleen's primary clinical approaches are mindfulness-based therapy, trauma-informed treatment, cognitive-behavioral therapy, and crisis intervention. She has significant intercultural competency gained through extensive experience working with diverse populations. Over the past thirteen years, Coleen has enjoyed working in hospice/end-of-life care, family trauma treatment in foster care prevention services, outpatient mental health, and private practice. Coleen's areas of expertise are treating post-traumatic stress, grief/loss, mood disorders, anxiety disorders, stress management, healthy relationships, identity formation, and life transitions. Coleen is a strength-based, student-centered clinician who works collaboratively with students to support strategies to improve functioning, well-being, and quality of life. Coleen believes that mental health is key to students thriving at Skidmore.
Shannon Hoffman, LMSW, Staff Clinician
Shannon earned her master's degree in Clinical Social Welfare from the University at Albany. She has experience working in both teletherapy and in-person settings supporting clients with LGBTQAI+ and cultural identity and belonging concerns, crisis intervention, grief and loss, terminal illness, chronic pain management, and family or origin and substance use concerns. She believes in student's abilities to develop the skills necessary to more deeply enjoy healthy intimacy and communication in their relationships with themselves and others. Through a trauma-informed and strengths-based psychoanalytic approach, Shannon uses the frameworks of logotherapy and somatic and inner child healing to co-create a solution-focused and affirmative space in which students feel empowered to be honest about their circumstances, symptoms, and experiences, and hopeful and confident about their ability to be successful students.
Elizabeth Green, PhD., Case Management Consultant
Elizabeth earned her PhD in School Psychology from Penn State University, where she concentrated on clinical psychology in adolescents. She has extensive experience working with individuals who present with learning differences, ADHD, anxiety and mood disorders. Her areas of professional interest include: social and school anxiety; the impact of self-esteem on interpersonal relationships; performance anxiety in student-athletes; and the importance of nutrition and appropriate self-care for mental health & wellness. Elizabeth enjoys developing collaborative relationships with students and incorporates cognitive behavioral and solution-focused techniques to help them better understand their needs and develop practical strategies for achieving both academic and social success.
Julia Routbort Baskin, Ph.D., Associate Dean of Student Affairs for Health and Wellness
Julia Routbort, Ph.D. is the Associate Dean of Student Affairs for Health and Wellness. She is a licensed clinical psychologist and earned her Ph.D. from the University of Michigan, where she completed both the child and adult clinical tracks. In her position as Associate Dean, Julia has oversight of the three departments on campus that deliver clinical and prevention services to students: Health Services, the Counseling Center and Health Promotion. Through strategic planning, collaboration, and coordination of clinical services, she is charged with helping to create a resilient, responsive and healthy campus community where students, faculty and staff are informed and engaged around health/wellness issues. Julia does some clinical work at the Counseling Center, where her areas of expertise include sexual assault and trauma, feminist psychotherapy and crisis management. She believes that a healthy campus is one where all members of the community know how to help themselves, how and where to ask help when those efforts aren't sufficient, and know how to help others.