Pathways to Care
Our Pathways to Care model infuses the counseling process of matching appropriate care with each student's acute needs with timely access and personal choice.
Starting, in many cases, with an individual "one-at-a-time" consultation, our professional mental health clinicians engage students in assessing their acute needs. From there, a range of short-term services are available.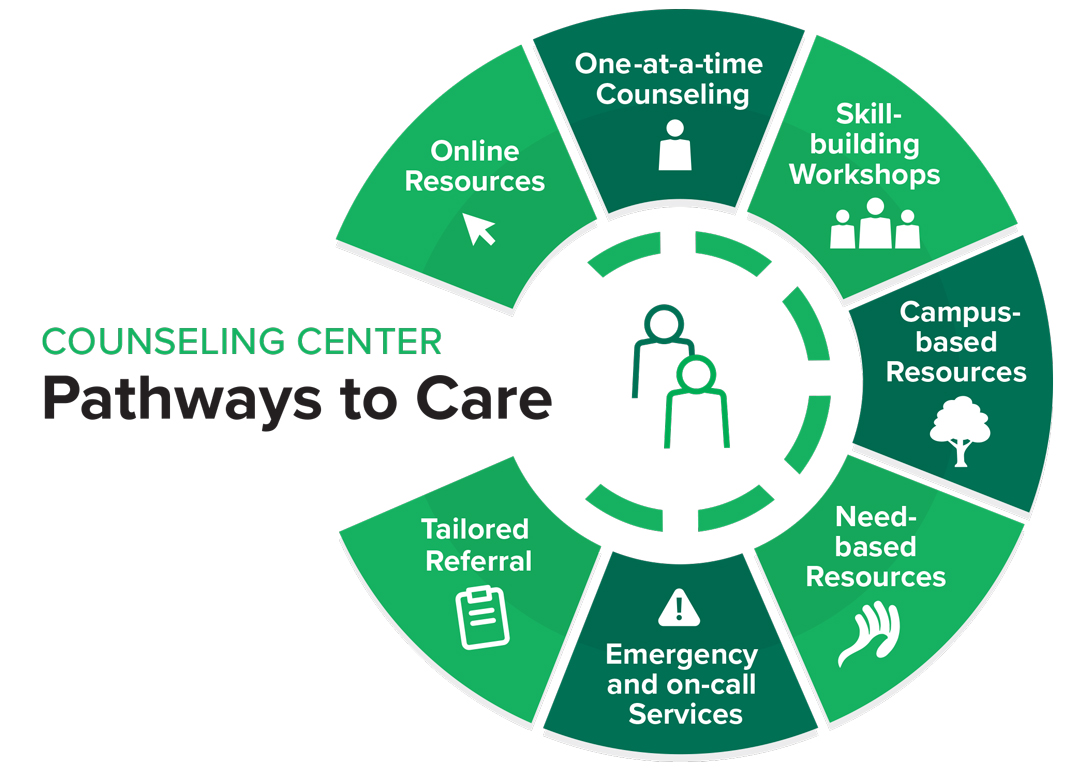 Our goals
provide timely access to mental health care and education
create personalized plans that align with specific needs
support maximum autonomy within treatment
effectively connect students with other campus resources and supports
incorporate self-help and technology resources to support ongoing wellbeing
identify and swiftly supporting those that demonstrate the greatest need
remain flexible and responsive to allow for more students to be served by Counseling Center clinicians
Understanding the options available
Online resources
Our website is a growing resource for self-help and self-management. We are continually expanding what's available, including a variety of free and low-cost apps, guided meditation recordings and videos, TED Talks, as well as other self-paced approaches to assist with stress reduction, developing mindfulness, improving sleep, learning healthy coping techniques and more.
Look for continual updates on our Mental Health Resources & Self-Care page.
One-at-a-time sessions
For most students, their initial point of contact with the Counseling Center will be an individual consultation session focused on developing practical solutions for the immediate problem that has led them to seek support. They will learn strategies to help manage their concern outside of the appointment and, with the clinician, will discuss among a range of appropriate 'next steps'. Students may return for additional "one-at-a-time" appointments as needed (up to 8 times per year), or may be connected with another on- or off-campus care option, depending on the best fit for their situation.
Skill-building workshops
The Counseling Center offers multiple skill-building workshops in a small group format each semester. These are a great way to learn and practice concrete skills for effective anxiety management, positive coping for depression, stress reduction through mindfulness, and handling difficult emotions. The workshops run for three weeks each, so there is never a long wait to join one. Students can learn more about the workshops through an individual consultation session with a staff clinician.
Campus-based resources
Students who would benefit from related services offered by one of our campus partners will be assisted in connecting with the professionals in these areas. Such services could include: time management, study skills development, and accommodations-related support through Student Academic Services; individual spiritual counseling or group discussions through the Office of Religious & Spiritual Life; meditation, mindfulness, and yoga offerings through Skidmore Mindfulness; or personalized wellness coaching sessions or victim advocacy resources offered through Health Promotion.
Needs-based resources
Students struggling with suicidality, psychotic symptoms or a recent sexual assault will be offered a brief course of more consistent care intended to promote stability, safety, and improved functioning. Additionally, those who lack the financial resources to access needed care in the community may qualify for assistance with transportation and/or co-pay expenses, or may be eligible for a course of short-term therapy at the Center.
Tailored referrals to open-ended and specialized care in the community
When more consistent, intensive, or specialized treatment is the most appropriate option, weekly and open-ended therapy with a community professional is available. Our clinicians work with students to identify accessible care with a local practice that participates in their insurance plan and has expertise in their area of concern. Students can also receive assistance in connecting with intensive outpatient, rehabilitation, or inpatient programs in the surrounding area or near their home.
Emergency and on-call services
Same-day emergency appointments are available to all students who are experiencing a safety-related situation. We ask students to come to the office, versus call, when requesting these appointments so that we can triage appropriately. Emergency appointments are scheduled for 3:00 pm or more immediately as appropriate. After-hours on-call assistance is available for emergencies that occur outside of normal business hours. Students can access this service through our main number (518-580-5555). Additionally, students with non-risk-related high-distress situations will have opportunities for daytime contact with an on-call clinician as appropriate.