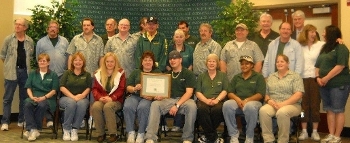 Custodial Operations Staff
Winners of 2011 President's Award
Name/Title
Extension
Responsibilities

Richard Mickus
Manager, Housekeeping


x5952

Normal custodial services for Skidmore College programs include: routine cleaning services, pest control, and refuse and recycling collection and disposal services. Services are provided around the clock Monday through Sunday for public access buildings, events and campus support.

Our first shift staff provides services to residential halls and administrative buildings 7am – 3:30pm. Our second shift staff provides services to specific buildings and provides on-call campus support 3pm – 11:30pm. Our third shift staff provides services to academic buildings 11pm -7:30am.

Colleen Manning
1st Shift Supervisor, Houskeeping and Events Coordinator


x5866
Colleen coordinates all events on campus. Normal event set-up services include: certain types of standard set-up, moving and delivery services, and furniture/equipment set-up (such as a podium for classrooms as part of the regular academic programs.) Set-ups for departmental events (such as tables and chairs) requested during normal working hours Monday through Friday 7:30am – 4:30pm.

Kevin Pock
3rd Shift Supervisor


x5952
Supervises 3rd shift custodial operational employees.