Doc on Campus: MDOCS Academic Festival
May 10, 2016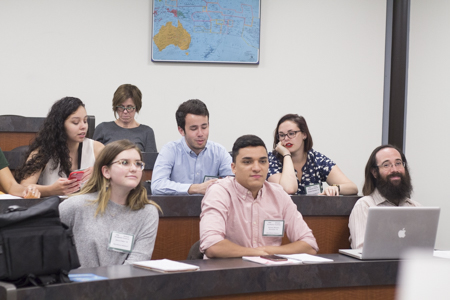 Each year, Skidmore College's Honors Forum highlights student accomplishments in a daylong campus-wide academic festival held on the day after classes end. For MDOCS', a few hours was not enough -- faculty organized Student Showcases stretching across two weeks, including the Tangwaves pop-up FM radio station.
The MDOCS 2016 Academic Festival session showcased evidence-based work spanning across all documentary media. Stories ranged from historic archival projects like those highlighted in 60 Years Young, to an interactive website highlighting artists in the Capital region, to a photo and archival exhibit about a group trip to Cuba, to a variety of video projects from MDOCS' graduating seniors. Beyond the MDOCS session, evidence-based storytelling was on display as students in Prof. Eric Morser's Mount McGregor Mysteries -- Power of Doing Public History (History) presented their year-long participation in the Project HAL Incarceration Project. Two senior capstones --in American Studies (Dan Plumer, '16) and Dance (Emma Lanier, '16)--will be reworked as summer Storytellers' projects this summer.
Juliana Boucher, '16, "How Was Cuba?" exhibit
The biggest takeaway of the day was that documentary can mean many things and students are creatively applying and integrating lessons learned in academic curricula as different as social work, art, anthropology, management and business, psychology, history and media and film. Students presenting in MDOCS' Academic Festival session came from over 10 different majors and minors, having been drawn to MDOCS to share a capstone project iengagingly, to tell a personal story through an audio or visual lens, or simply to showcase what can be learned from telling the stories of people from another Skidmore generation.
In case you missed the program, check out some of the projects:
Pheobe Radcliffe, '17 and Eli Ruben, '17
Skidmore Saratoga Memory Project: 60 Years Young
The Skidmore Saratoga Memory Project was formed to document the history and cultures of the college, city, and county. The project supports independent studies and academic internships for students that add to the ongoing exploration of the contemporary and historical life of Saragoa County and Skidmore College. This past fall Jordana Dym led an independent study to create a video project and archival exhibit to be included in the Saratoga Senior Center's 60th Anniversary Gala. Presenters: Pheobe Radcliffe '17, Social Work/Spanish & Eli Ruben '17, Management & Business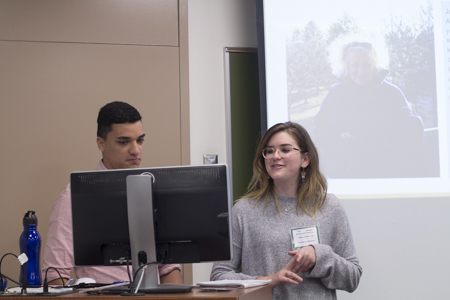 Renato Martins Dornelas, '18 and Olivia Fidler, '19
Skidmore Retiree Project: Oral History Interviews
The Skidmore Retiree Project is one of the collections in the Skidmore Saratoga Memory Project and is an online archival database of audio interviews with Skidmore Retirees. Many of these members saw the college through some of its greatest changes in it's history and shed a light on how we got to where we are today. Interviews are continuously being added to the archive through the Interview 101 DS course. This semester, students in Sue Bender's class not only learned the art of the oral history interview, but also how to work an audio recorder and transcribe a piece. Presenters: Olivia Fidler '19 & Renato Martins Dornelas '18, International Affairs/Media & Film Studies
Storytellers' Institute: Upstate Painters Project
Jackson Bryant was a Student Fellow in the inaugural Storytellers' Institute in summer 2015. The Storytellers' Institute is a 5-week residency hosted on the Skidmore campus in June. During the Institute 4 doc practitioners along with 8 Skidmore Student Fellows and 2 Skidmore Faculty members work on independent doc projects and engage in lively and thought-provoking conversation, workshops and inspiration addressing a timely topic or theme. Presenter: Jackson Bryant '16, Anthropology
How Was Cuba?: La Patria; Tourism at Work; Omnipresent Art of Cuba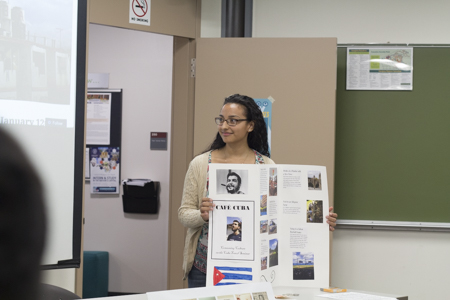 Julianna Quiroz, '17
In January 2016, 18 college students and 2 faculty members from Skidmore College and St. Lawrence University traveled to Cuba on a travel seminar. In March the Skidmore students put together an exhibit in Case Gallery to present their impressions of and connections made between their journey and a semester long study of the history of travel to, within and from Latin America. Presenters: Juliana Boucher '16, Psychology/Honors Forum, Julianna Quiroz '17, Theater
Bennett Beutel, '16
Video Projects
Lisa Fierstein '16, American Studies/Arts Administration/Media & Film Studies, The Presence Project
Leila Farrer '16, History/Arts Administration/Anthropology, A Pivot in History
Bennett Beutel '16, Management & Business, Dreams
Pierre Delcourt '16, Management & Business/English/Computer Science, FreeKing Studios
Maddy Tank '16, Management & Business/Art, Indelible