2012 - 2013 ACTIVITIES AND EVENTS
Classics students meet-and-greet
Come chat with Emily and Kat, the student reps. for the Classics Department. And there's pizza!
Date: Tuesday, September 18, 2012
Time: 5:15 PM
Location: Case Center - (ICC) Intercultural Center
---
Classics Luncheons
Classics students & faculty gather for food and conversation in the Test Kitchen of the Murray-Aikins Dining Hall once a month for a Classics lunchtime symposium.
Dates:
Wed. 9/12/12, 12:20 – 1:15 PM
Fri. 10/12/12, 12:20 – 1:15 PM
Wed. 11/14/12, 12:20 – 1:15 PM
Wed. 12/04/12, 12:20 - 1:15 PM
Wed. 01/30/13, 12:20 - 1:15 PM
Fri. 03/1/13, 12:20 - 1:15 PM
---
Other Events
"Improvising the Self in Homer's Odyssey."
Description: Carol Dougherty, Kenan Professor of Classical Studies at Wellesley College and author of the widely acclaimed The Poetics of Colonization, investigates Odysseus as an improviser, a "man of many twists and turns" who crafts new self-identities as part of the process of negotiating his return home. Prof. Dougherty situates this improvisatory spirit in the turbulent world of archaic Greece and explodes the standard interpretation of Odysseus as wily liar.
Date: Tuesday, October 9, 2012
Time: 5:30 – 6:30 PM
Location: Palamountain Hall, Davis Auditorium
Guest Speaker: Dr. Carol Dougherty
"The Parthenon Sculptures and the Policies of Pericles."
Description: Jenifer Neils, Ruth Coulter Heede Professor of Art History and Professor of Classics and the author of the definitive "The Parthenon: From Antiquity to the Present" (Cambridge, 2005) and "The Parthenon Frieze" (Cambridge, 2001), will deliver the annual Classical World lecture. Prof. Neils will investigate the new elements in the Athenian Parthenon's sculptural program and how they might relate to some of the legislation passed under the leadership of Pericles. This lecture will include an overview of the Parthenon and its decoration and will demonstrate how the new themes depicted here can be related both to the legislative policies of Pericles and as well to issues of gender and identity.
Date: Tuesday, February 19, 2013
Time: 5:30 – 6:30 PM
Location: Palamountain Hall, Davis Auditorium
Guest Speaker: Jenifer Neils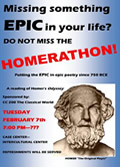 Homerathon
Annual marathon reading of Homer. Food and drink will be served. Bring your Homers and any other poetry you'd care to read. It's going to be epic!
Date: Tuesday, March 26, 2013
Location: 2nd Floor - Murray Aikins Dining Hall
Time: 6:00 - 9:00 PM
Annual Classics bus trip to The Metropolitan Museum of Art
Each spring students in CC200 The Classical World travel to NYC to study and present objects in the Greco-Roman galleries of the Metropolitan Museum of Art.
Date: Saturday, April 13, 2013
Departure time: 7:30 AM
Bus departing from Skidmore (Case Parking Lot)
Returning to Skidmore: 11:00 PM
Annual Parilia Conference

The Classics Department of Skidmore College will attend a one-day undergraduate research conference in the discipline of Classical Studies -- Greek, Latin, Ancient History and Archaeology. Faculty and student participation will be from Union College, Hamilton College and Colgate Collge, with students presenting papers followed by discussions.

Date: Friday, April 19, 2013
Time: 9:30 AM - 8:00 PM
Location: Colgate College, Hamilton, NY
Annual Classics BBQ

Please join us for the annual Classics Department BBQ and festivities. This is our opportunity to celebrate the year, to wish our graduating seniors well, adn to welcome new students to our departmental community.
Date: Tuesday, April 30th, 2013
Time: 5:30-6:30
Location: the picnic table next to the Tang (rain location: Intercultural Lounge)