2016 - 2017 ACTIVITIES AND EVENTS
Parilia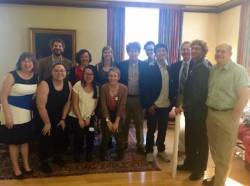 Date: Friday, April 21, 2017
Time: 10:00am - 5:00pm
Location: Surrey
The Classics Department of Skidmore College will host a one-day undergraduate research conference concerning the various aspects of Classical Studies, including: Greek, Latin, Ancient History and Archaeology. Skidmore College students and faculty will be joined by Hamilton, Union, and Vassar Colleges, as a few students from each institution will present their papers followed by discussions. The conference concludes with a poster session showcasing the work of students from all four colleges.
David H. Porter Classical World Lecture
Date: Wednesday, April 5, 2017
Time: 6:00-7:00pm
Location: Davis Auditorium
The David Porter Classical World Lecture is one of the Classics Department's most anticipated events,
and is part of the department's gateway course, CC200: Classical World.
This year's speaker is Prof. Elizabeth Fisher of Randolph-Macon College, who will discuss the relationship between Greece and Ethiopia from as early as 1600 BCE, down through the age of Homer. From literally the beginning of Greek literature, line 22 in Homer's Odyssey, Ethiopia featured as a special place: where men were blameless and most reverent and the gods enjoyed feasts. Prof. Fisher will argue that specific landscapes and the archaeology in Ethiopia map closely onto Greek pictorial and literary references, and that, for the Greeks, Ethiopia was not a mythical land but a real place, in part situated in modern Ethiopia
ExploreMore: Classics
Date: Wednesday, March 22, 2017
Time: 5:30-6:30pm
Location: Filene Hall, 2nd floor, conference room
Interested in spending a semester in Bath, England, Athens, or Rome? Want to work on an archaeological excavation in the summer? Want to read great literature, examine marvellous works of art, and explore ideas essential to the human condition? Then come to learn more about the Classics major, and meet the faculty and some of our students.

Homerathon!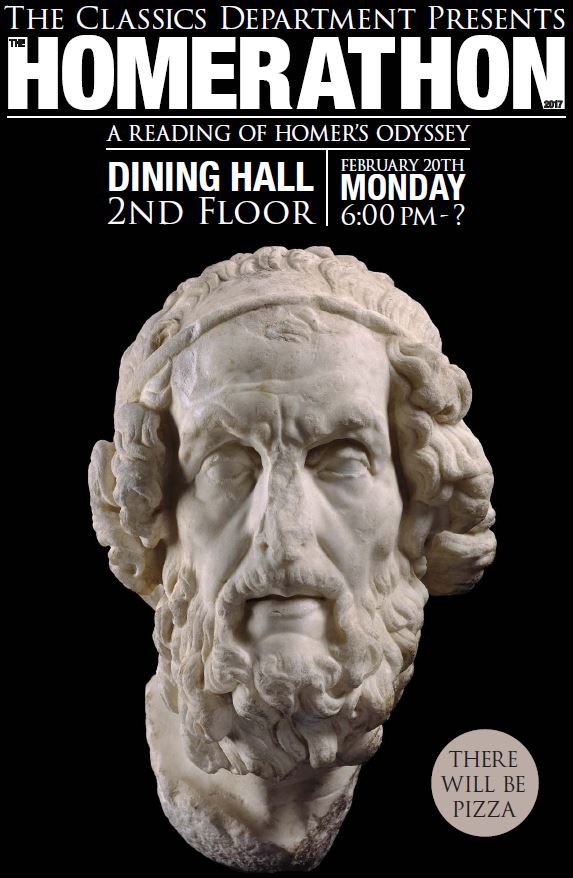 Date: Monday, February 20, 2017
Time: 6:00 pm - ???
Location: Murray-Aikins Dining Hall, 2nd floor
The students and faculty of CC200: The Classical World invite you to our annual Homerathon! Bring your copy of Homer's Odyssey to the upstairs dining hall on Monday, February 20th from 6-? pm and read/listen to the tale of Odysseus' journey home. Pizza, salad, and beverages are served. We will read excerpts from the poem until we run out of steam - which could be all night long!
Classics Dinners
Classics students & faculty gather for food and conversation in the Test Kitchen of the Murray-Aikins Dining Hall once a month for a Classics dinner symposium. Dinner tickets provided if requested.
Dates: Monday, February 20, 2017, in conjunction with the Homerathon! (pizza!!!)
Times: Wednesday, April 5, 2017, in conjunction with the Porter Lecture (Karavalli afterwards)
Annual Classical World Bus Trip to the Metropolitan Museum of Art
Each spring students in CC200 The Classical World travel to NYC to study and present objects in the Greco-Roman galleries of the Metropolitan Museum of Art.
Date: Saturday, April 8, 2017
Time: 7.30am departure, 11.00pm return
Location: Case Parking Lot
Annual Classics BBQ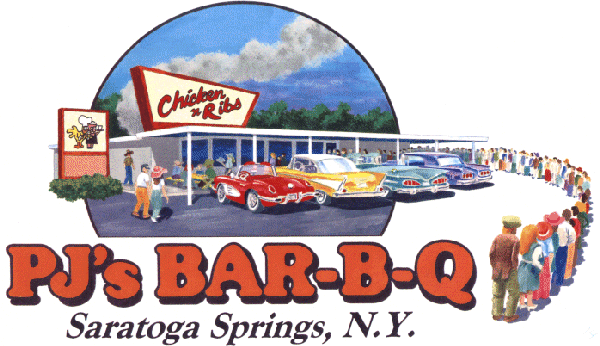 Please join us for the annual Classics Department BBQ and festivities. This is our opportunity to celebrate the year, to wish our graduating seniors well, and to welcome new students to our departmental community.
Date: Tuesday, May 2nd
Time: 5.30pm
Location: Thomas Amphitheater
The Parthenon: From Pericles to the Present: Travel Seminar 2017
Profs. Arnush and Mechem are offering this CC225 course during the spring semester, which concludes with a travel seminar to England and Greece. Students interested in the course need to apply via the OCSE portal. APPLICATIONS ARE NOW CLOSED.
Travel seminar participants will depart from a NYC-area airport on Sunday, May 21st. After a few days in London, we will fly to Athens and return to the US on Saturday, June 3rd.
Annual Lecture: "The Aeneid in America, from First Contact to Final Frontier"
Speaker: Prof. Meredith Safran, Trinity College

Date: Tuesday, November 15, 2016
Time: 5:30 p..
Location: Davis Auditorium
What is classical reception? What can classicists contribute when materials and motifs from the ancient world garner the attention of modern audiences? For our fall Classics lecture, Professor Safran will answer these and other questions with case studies from Vergil's Aeneid and the recent Syfy series, Battlestar Galactica. Sponsored by the Classics Department.