Dan Curley
Associate Professor of Classics
Office: Filene Hall 212
Telephone: 518-580-5400
Email: dcurley@skidmore.edu

EDUCATION: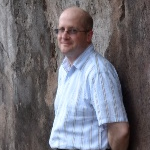 Ph.D., University of Washington (1999).
A.M., Washington University in Saint Louis (1991).
B.A., Beloit College (1988).
DOCTORAL DISSERTATION:
Metatheater: Heroines and Ephebes in Ovid's Metamorphoses. (Director, S. Hinds.)
TEACHING AND RESEARCH INTERESTS:
Latin poetry of late republic and early empire.
Publius Ovidius Naso and his reception.
Rome and Roman topography through the ages.
Greek and Roman drama, especially tragedy.
Ancient biography and life-writing.
Classical myth on film.
SELECT PUBLICATIONS:
(under contract for Wiley-Blackwell) Classical Myth on Film.
(in prep.) "Clash of the Titans: Divine Handiwork, Divine Myth."
2013. Tragedy in Ovid. Cambridge University Press.
2004. "The Alcaic Kid (Horace, Odes 3.13)." CW 97:137–52.
2003. "Ovid's Tereus." In Shards from Kolonos, 163-97. Bari.
1997. "A Dialogue between Mother and Son." CQ 47: 320–2.