Dominique Vuvan
Songs and stories both play a fundamental role in all human societies. Indeed, music and language are arguably what separate humans from other species. For decades, psychologists have studied how humans learn, comprehend, and produce language, as well as how they construct, perceive, and play music. Researchers have also investigated how and where our musical and linguistic abilities overlap. Do we process a melody in the same way that we process a sentence? Do we use the same mechanisms to learn musical patterns and grammatical patterns? Does our brain represent language and music using same neural substrates?
Erica and Dominique both came to Skidmore College as assistant professors of psychology in fall 2016 and immediately realized their shared interest in how people process and understand complex structures: Erica studies language development, and Dominique studies music cognition.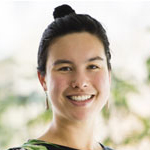 Erica Wojcik
They were scheduled to teach seminars in their areas of expertise in spring 2017 and wanted to introduce their students to the connections between language and music. With the support of a Kress pedagogy grant, they created a series of collaborative assignments between their classes that fostered creative interdisciplinary thought, promoted peer teaching, and encouraged students to engage with key debates in cognitive psychology. Erica and Dominique plan on building on this collaborative teaching paradigm in future semesters. And supporting the idea that teaching and research go hand in hand, they have also started to collaborate on research exploring the interaction between music and language learning.