Meet the CLTL Team
Director Beck Krefting
Rebecca Krefting, who goes by Beck, is Professor of American Studies and affiliate faculty to Gender Studies, Black Studies, Intergroup Relations, and Media and Film Studies. Her research specializations are feminist comedy studies; studies of visual and popular culture; histories and historiographies of stand-up comedy; preppers and post-apocalyptic cultural texts; and pedagogical studies. Her work is transdisciplinary and likewise she has taught in many disciplines including Women's, Gender and Sexuality Studies, American Studies, African American Studies, and Media Studies. Her monograph titled: All Joking Aside: American Humor and Its Discontents (Johns Hopkins UP, 2014) charts the history and economy of charged humor or humor aimed at social justice. She has published dozens of chapters in edited collections and journal articles. For a fuller accounting of her work check out her website. She has presented research nationally and internationally. She has been a long-time avid consumer of all things pedagogically related—as a student, practitioner, and scholar. She was recognized for excellence in teaching at the University of Maryland, College Park when the Center for Teaching Excellence named her a Graduate Teaching Fellow (2009-10). She received the Ralph A. Ciancio Award for Excellence in Teaching in 2020. She was Vice-President (2020-2022) and now the President of the American Humor Studies Association where she helped develop programming for graduate students and junior scholars publishing in the field of humor/comedy studies.
Email Beck: rkreftin@skidmore.edu
Follow Beck on Twitter: @beckrefting
Senior Administrative Coordinator in the Dean of Faculty\Vice President for Academic Affairs Office – Terri Mariani
As part of Terri Mariani's portfolio through the DOF\VPAA office, she works in conjunction with Beck Krefting to support and coordinate various logistics for the CLTL, New Faculty Orientation, as well as managing reservations for the Weller Room. Terri started her career at Skidmore 18 years ago in Campus Life. Many Skidmore staff will recognize her from her 13 years in Human Resources, where she served as Training Coordinator and oversaw professional development opportunities. Before joining the DOF\VPAA office in March 2021, Terri was the Student Employment Coordinator in Dining Services. As Senior Administrative Coordinator to the Dean of the Faculty and Vice President for Academic Affairs and three Associate Deans of the Faculty, her position provides both managerial and administrative support to the daily operations of the Office of the Dean of the Faculty and Vice President for Academic Affairs.
Student Assistant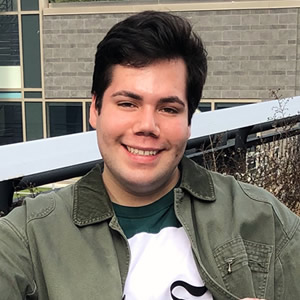 Michael DeCarlen-Bumiller
Michael DeCarlen-Bumiller is a Class of 2023 Political Science major and member of the Periclean Honors Forum from Boxford, Massachusetts. He also serves as the Senior Alumni Board Student Representative and works in the Alumni Relations and College Events office. He is a passionate community servant who believes everyone can change the world starting with their intrapersonal interactions. His favorite classes are ones that foreground engaging discussions and have a good balance between professor and student participation/interaction. If you want to put a smile on his face serve him some Cajun food.
Lila Norton
Lila Norton is a Class of 2024 geoscience major and anthropology minor from Western Massachusetts. Lila hopes that this experience will bring more opportunities to apply intersectionality on ca mpus and to increase student involvement within the CLTL. Her favorite classes are ones that focus on minoritized identities in STEM and broach challenging topics in a safe space. During her down time, you can find her playing the cello, participating in ultimate frisbee, or hitting the ski slopes when the weather allows.
Cheyenne Tanner-Cotman
Cheyenne Tanner-Cotman (Class of 2024) is a junior at Skidmore who hails from Delaware. She is a computer science major with plans to become a software designer. She is a hard worker (who also holds a job off-campus at Starbucks) and a passionate lover of all forms of art. She is excited to be a part of the CLTL team and advocate for those like her who are always looking for improvements in the classroom. Her favorite classes are ones that are hands-on and offer direct and detailed guidance in exploring course topics. She lives with two guinea pigs named Oreo and Cookie Dough.