This Week in Dining Services
ANNOUNCEMENTS
Take and Bake Apple Crisp special
For $8, get everything you need — from apples and premeasured ingredients to ice cream, whipped cream and a baking pan — to make a delicious apple crisp for six people. Order by Tuesday, Nov. 17, for pickup on Friday, Nov. 20, between 3 and 5 p.m. in the Atrium Café.
Take and Bake Oboy special
Esperanto Oboy "Take and Bake" party packs available for pick up from The Spa during the final week of classes, Nov. 16-20. The Oboy is a natural blend of mild spices, chicken breast, cheeses and green onions, wrapped in golden brown dough. Pre-payment is required.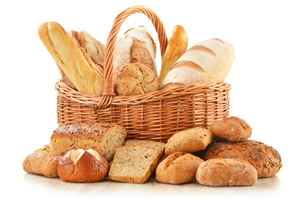 Bread Sale
You must pre-order by Tuesday, Nov. 17 and pick up your order between 3-5 p.m., Friday, Nov. 20 at the Atrium Cafe.
Bread flavors/specials are as follows, $4.00 each:
apple cinnamon

ciabatta
corn
corn

with jalapeno and cheddar

cinnamon raisin

pumpkin

pumpkin with chocolate chips

sourdough
---
Spa Specials
Daily Soups*
Angus Beef Chili (GF)
Cream of Broccoli (GF-VEG)
Ginger Carrot (GF-VEG)
Quinoa Sweet Potato Chili (GF-V)
Tomato Basil (GF-VEG)
Butternut Squash and Apple (GF-VEG)
White Chicken Chili (GF)
Italian Wedding
Thai Coconut Curry Chicken (GF)
Vegetarian 3 Bean Chili (GF-V)
Chicken Noodle
Roasted Red Pepper and Smoked Gouda (GF-VEG)
Angus Beef Chili (GF)
New England Clam Chowder
Minestrone
DF - dairy free | GF - gluten-free | V - vegan | VEG - vegetarian
Daily Hot Special*...$6.99
Include any size fountain drink, coffee or tea.
Grilled chicken curry with yellow curry sauce, crispy samosa with cilantro chutney confetti veggie rice
Spa Taco Bowl
Choice of steak or chicken on lettuce with black beans, shredded cheese, salsa and guacamole
Southern fried chicken (3 pieces), mashed potatoes, kernal corn, gravy, buttermilk biscuit
Chipotle Chicken Sandwich
Crispy chicken breast, pepper jack cheese, chipotle mayo, lettuce, tomato, side of tater tots
Captain's Platter
Beer battered haddock, shrimp, clams, old bay fries, side of cole slaw
Sandwich Special - TBA
No sandwich special
Weekly Salad Specials - TBA*
Salad Special*...$6.99
TBD
TBD
Include any size fountain drink, coffee or tea.
*menu is subject to change