This Week in Dining Services
ANNOUNCEMENTS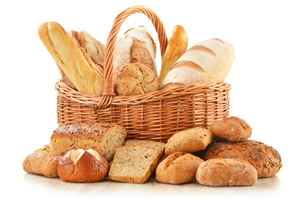 Bread Sale
You must pre-order by Tuesday, April 20 and pick up your order between 3-5 p.m., Friday, April 23 at the Atrium Cafe.
Note, this will be our last Bread Sale of the semester so be sure to stock up. Bread flavors/specials are as follows, $4.00 each:
apple cinnamon

ciabatta

corn

corn with jalapeno and cheddar

pumpkin chocolate chip

sourdough

vegan banana
---
Spa Specials
Daily Soups*
Butternut Squash and Apple (GF)
Italian Wedding
Thai Coconut Curry with Chicken (GF-DF)
Grilled Cheese Tomato (VEG)
Angus Beef Chili (GF)
Corn Chowder (VEG)
Three Bean Veggie Chili (GF-V)
Roasted Red Pepper Smoked Gouda
New England Clam Chowder
Chicken Noodle
Angus Beef Chili (GF)
Tomato Basil (GF-V)
Cream of Broccoli
Buttery Grilled Cheese (VEG)
Thai Chicken Coconut Curry (GF)
Fire Roasted Vegetable (GF-V)
Roasted Red Pepper & Smoked Gouda (GF-VEG)
Quinoa Sweet Potato Chili with Fixins (GF-V)
Shrimp & Corn Chowder
Butternut Squash & Apple (GF)
DF - dairy free | GF - gluten-free | V - vegan | VEG - vegetarian
All chili will include toppings such as shredded cheese, diced onion and tortilla chips.
Warm bread bowls available upon request. Corn bread available also.
Daily Hot Special*...$6.99
Include any size fountain drink, coffee or tea.
Breakfast for Lunch
French toast with warm blueberry compote, maple sausage links, buttermilk waffles, warm syrup, bacon, crispy baby cake potatoes
Southern Style Chicken Sliders
Crispy chicken breast on buttermilk biscuit with shredded lettuce, bread and butter pickles, pepper jack cheese and bbq mayo with a side of cajun curly fries
General Tso's Chicken
Crispy tempura chicken served on stir fried vegetable rice, steamed broccoli florets
Latin Beef Tacos
Slow braised beef with south american spices and chilies, served in flour tortillas, picked vegetables, jalapenos, cotijo cheese, cilantro-lime verde, warm black beans (smoked chicken available also)
Beer battered haddock platter with old bay french fries, creamy cole slaw, lemon, cocktail sauce, and tartar sauce
Grilled jumbo all beef hot dog bar with toppings: diced onions, shredded cheese, sauerkraut, chili, served with tater tots (cheese sauce available)
The Bogey Melt
Thinly sliced turkey topped with smoked gouda, bacon, and bbq mayo served on a potato roll and side of crispy Saratoga Kettle chips
Tandoori Chicken Rice Bowl
Fire roasted chicken breast topped with a spicy yogurt sauce, served on basmati rice, sauteed fresh garden veggies, crispy samosas, warm naan and tomato chutney
BBQ Picnic Platter
BBQ pulled pork and smoked chicken, side of creamy cole slaw, cornbread and vegetarian baked beans
Mexican Street Corn Fried Shrimp Platter
Crunchy corn batter shrimp served with Old Bay curly fries, pickled veggie slaw, finished with a cilantro lime crema
*menu is subject to change