Skidmore Community Garden
In April 2009 the volunteers from the Environmental Action Club, with the support of Facilities Services, broke ground to create the Skidmore College Student Garden. In 2014 there was an opportunity to bring the garden to a more central, visible location on campus. Students, staff, faculty and administrationworked together to find a suitable location for the newgarden and chose Wiecking Green. The new location is more accessible, highly visible and invites everyone to enter and enjoy the space. During this planning process, the group decided to change the name of the garden to the Skidmore Community Garden, representative of the collaborative process and inclusivity that the garden's mission strives to achieve. Students, staff, faculty and other community members are always welcome to enjoy the garden space as a place for rest, reflection, fun and learning.
The garden supplies local food, grown using organic practices, to Skidmore's dining hall. It facilitates a connection to, and appreciation for, the food that we eat and offers hands-on learning opportunities for the Skidmore community. The garden provides an outlet for community members interested in environmental issues, social justice and economic development to learn about the local food movement and the ecology of food. In its first season, the garden produced more than 1,100 lbs of food, and students hosted a "harvest dinner" that served more than 150 students food that was either produced by the student garden or donated by the Saratoga Farmers Market.
Garden on North Broadway, 2010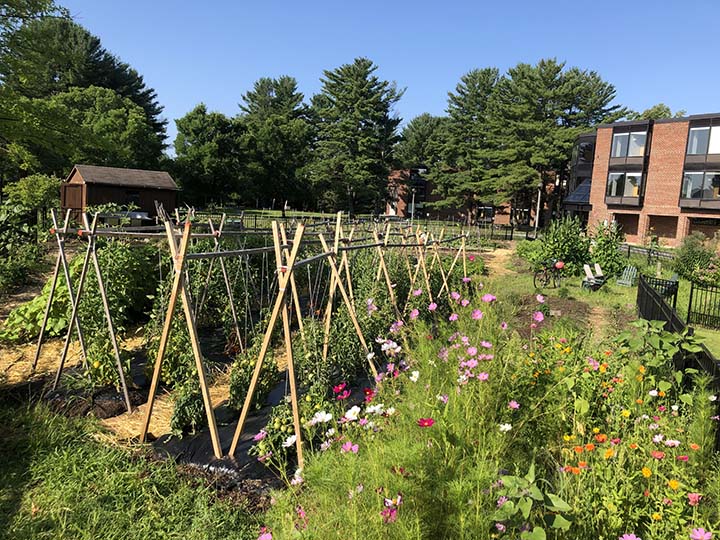 Community Garden in full bloom at current site by Wiecking Hall, 2019
Since 2015, the Community Garden has been organized by 1 student Community Garden Manager, planning the crops in the spring, starting seeds in March, cultivating the garden through 10 weeks in the summer, and wrapping up the garden in the fall with the annual traditional Harvest Dinner. This meal features crops from the Skidmore Garden and features local produce for an all-vegetarian and vegan-friendly meal. Dining Services has been a phenomenal partner, helping pull together the menu, and directing student volunteers who prep food for the meal days before. Harvest Dinner 2019 brought out 300 attendees to the Spa dinner, and the 2021 dinner held in the Dining Hall served over 1500.
Get involved by attending our weekly work parties, Sundays 3-5pm in September, October, April and May.
To stay connected to the happenings of the Skidmore Community Garden, please email garden@skidmore.edu to get on our email list for work parties. We post regular workparty updates on our Sustainable Skidmore Instagram.
Read the Student Garden blog from the 2014 Garden launch, Can Ya Dig It?
Students in the Environmental Action Club's Food Group put together an amazing local foods cookbook. Special thanks to Jewels O'Brien '15 and Laura Mindlin '15 for putting a lot of time and effort into this project.
Access the Community Garden annual reports by clicking here.