Virtual Campaign Celebration
Breaking Records and Making History
$229.4 million
Together we exceeded our goal. Thank you!
By the Numbers: What We've Accomplished
$229.4M total funds raised

27,193 individual donors (alumni, parents, friends and organizations)
16,457 donors made gifts of less than $250 – 61% of all campaign donors
4,265 alumni made their first gifts
2,510 Presidents Society donors contributed 81% of all funds raised
48 donors contributed $1 million or more
6,384 volunteers (including alumni, parents and 48 faculty & staff)
57% participation from on-campus campaign (faculty, staff, and retirees)
17,816 attendees at on-campus and off-campus events during the campaign
CAMPAIGN PRIORITIES
Learn about the impact of your support. Explore the campaign priorities below.
$50.4 Million total raised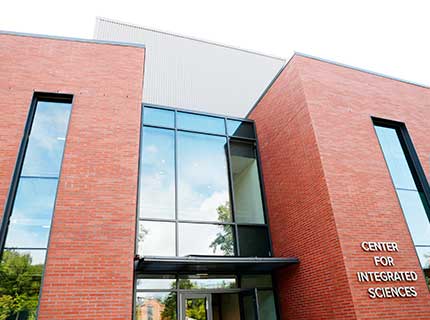 Center for Integrated Sciences
The single largest academic initiative in Skidmore's history, CIS will be a hub that fosters unique interdisciplinary connections across the sciences, arts, humanities and social sciences. Thanks to your transformational gifts, the North Wing is now complete, and faculty and students are using new, state-of-the-art spaces for teaching and learning. Construction continues and is slated for completion in 2024.
$29.7 million total raised
Scholarships and Financial Aid
Scholarships and financial aid are key to providing talented students with the opportunity to realize their ambitions and fulfill their dreams regardless of economic circumstances. Thanks to your generosity, almost $30 million was raised to help meet the financial aid needs of Skidmore students. More than 40 new endowed funds were established to support these needs.
$56.8 million total raised
Skidmore Fund
Your gifts through the Skidmore Fund help students pursue their studies and discover their passions while fueling every part of campus with resources that prioritize students and faculty.  The Skidmore Fund surpassed its $50 million campaign goal with the support of alumni, parents and friends. You created essential resources that are flexible, transformative and immediate.
$30.1 million total raised
The Tang Teaching Museum at Skidmore
The Tang is a national model for museum learning, creativity and undergraduate exploration. You helped to build the Tang's endowment, acquire works that support the exhibition program and expand teaching possibilities, support interdisciplinary exhibitions and programming, and provide support for current operations, exhibitions, programs and publications through the Friends of the Tang.
$4.7 million total raised
Athletics, Health and Wellness
With 19 varsity teams, dozens of club and intramural sports and significant wellness activity on campus, athletics and related programs are an integral piece of the Skidmore experience. Your support of nearly $5 million to the campaign will enhance the varsity athletics program and made construction of the Valentine Boathouse possible.
$4.8 million total raised
Career Development and Transformative Experiences
The nearly $5 million you contributed will enhance Career Development and Transformative Experiences for Skidmore students by funding career internships, student research and other experiential opportunities that help our students gain hands-on experience and skills and enhance post-graduation outcomes.
Skidmore Office of Advancement
Question? Get in touch.
Contact
Office of Advancement
Email
Phone
Address
815 North Broadway
Saratoga Springs, NY 12866
Hours
Monday–Friday
8:30 a.m. to 4:30 p.m.