Center for Integrated Sciences (CIS)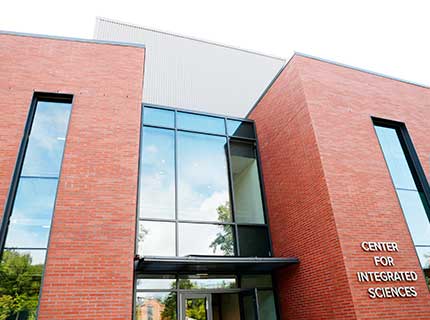 The single largest academic initiative in Skidmore's history, CIS will be a hub that fosters unique interdisciplinary connections across the sciences, arts, humanities and social sciences. Thanks to your transformational gift, the North Wing is now complete, and faculty and students are using new, state-of-the-art spaces for teaching and learning. Construction continues and is slated for completion in 2024.
CIS is a powerful and prominent manifestation of Skidmore's core commitment to liberal learning.
 
From its two wings and soaring atrium to its 51 research and teaching labs, 21 classrooms and state-of-the-art collaborative Idea Lab, CIS features flexible spaces that will boost creativity and discovery.
 
Students from across campus and among all academic disciplines will partner with one another and with our faculty to explore solutions to the world's most important problems. Today's discoveries are happening where biology meets psychology to address mental health crises; where environmental science and economics combine to develop clean affordable sources of energy; and where chemistry intersects with business to produce new cancer treatments.
$50.4 million raised
To make a gift, please visit our website or call the Office of Advancement at 518-580-5660.