The Program
The Institute is designed for college-aged students and adults, and approximately 50 percent of the program participants are undergraduate or graduate students.
2024 Workshops

Session 1: June 23 - July 6


Session 2: July 7 - 20

FICTION:

Intermediate

Elizabeth Benedict (week 1)

James Hannaham (week 2)

Amy Hempel (week 1) Adam Braver (week 2)

Advanced

Cristina Garcia (week 1) Jenny Offill (week 2)

Rick Moody (week 1) Karan Mahajan (week 2)

NON-FICTION:
Phillip Lopate
Thomas Chatterton Williams
POETRY:
Intermediate

Megan Fernandes (week 1) Richard Blanco (week 2)

Peg Boyers
Advanced

Rosanna Warren (week 1) Campbell McGrath (week 2)

Henri Cole
Sample Weekly Schedule (at a glance, subject to change):
Monday, Wednesday, Friday: 1 – 4 pm Workshop Classes
Tuesday, Thursday: 2 – 4 pm Question and Answer Sessions with Faculty and Writers-in-Residence
Evening Readings will feature Faculty, Writers-in-Residence and students.
Small classes offer individualized attention with approximately 16 students in each 2-week workshop. Workshops will discuss student works collected prior to the program and distributed in time for upcoming classes. Faculty may also assign additional writing exercises or recommend brief readings not written by students for classroom discussion. Students must attend all classes. Students may choose to register for four semester hours of undergraduate credit from Skidmore College when enrolled for 4 weeks in the same genre.
Applicants are encouraged to select the workshop which seems most appropriate and attractive to them when applying, but the Directors of the program will make final placement decisions.
SUPPLEMENTAL ACTIVITIES
Student-led panel discussions with Writers-in-Residence, including Mary Gaitskill, Paul Harding, Jamaica Kincaid, John McWhorter, Joyce Carol Oates, Caryl Phillips, Robert Pinsky, Francine Prose and Daniel Torday. Each of the panels will focus on the work of the Writer-in-Residence, with student participants drawn from the 2024 scholarship award recipients.
Faculty and Writers-in-Residence will offer public evening readings. Students will also have the opportunity to read from their own works each week. A welcome orientation and social gatherings are planned.
STUDENT WORKSHOP MANUSCRIPTS
In the late spring enrolled students will receive instructions on how to prepare and submit electronic manuscripts to be read and discussed with their instructor and fellow workshop participants. Students enrolled in a two-week workshop with two different instructors will have their manuscript reviewed by one instructor only (not both). Every effort will be made to accommodate requests for manuscript review by a particular instructor, but we cannot guarantee this will be possible.
MANUSCRIPT TUTORIAL SESSIONS (OPTIONAL)
Students enrolled in Fiction who are writing novels are invited to register for intensive tutorial sessions. Manuscript Tutors will read and discuss entire novels (fiction works in progress, not collections of stories) of up to 250 pages in length for an additional $500 fee.
Students enrolled in Poetry or Non-Fiction may register to receive critiques and advice on book-length collections. Poetry students may submit up to 75 pages to be reviewed, and Non-Fiction students may submit up to 150 pages.
Specific instructions on how to register and pay for these tutorial sessions will be sent to enrolled students in the late spring.
The Setting
The Institute's classes and public events are held on the Skidmore College campus in Saratoga Springs, New York. Saratoga is renowned for its mineral springs, Saratoga Race Course, and other points of historical interest. The city is home to the Saratoga Performing Arts Center, Caffé Lena, Northshire Bookstore, Lyrical Ballad Bookstore and many shops, cafes and restaurants. The College is located just one mile north of the historic downtown. Discover more of what Saratoga Springs has to offer by visiting the Saratoga Chamber of Commerce.
Participants who choose to live on campus will be housed in the Northwoods Apartments. Rooms are spacious and feature free internet access and cable television (students must bring their own televisions, computers, etc). Participants staying on campus must purchase the College's board (meal) plan for the duration of their stay. It is important to note the apartment kitchens are equipped with a microwave, refrigerator, sink, stove/oven, dishwasher and fire extinguisher, but they do NOT come equipped with dishes, utensils, a coffee maker, etc. Participants who choose to cook in the apartments must plan accordingly and bring these items to campus. Workshop participants may request specific roommates.
Our dining hall has an award-winning culinary staff that offers a broad array of freshly made items, including ample vegetarian, vegan, gluten-free and other special dietary options. Participants will also have access to the College's Scribner Library and recreational facilities, including swimming pool, weight and fitness rooms, lighted tennis courts, track, North Woods hiking trails, and the Tang Teaching Museum and Art Gallery.
Students are encouraged to contact the Office of Special Programs with questions or concerns related to services available to students with disabilities. Skidmore College is a smoke-free campus and the Smoking Policy applies to all members of the Skidmore community and to all guests and visitors to campus.
I enjoyed working with both the professors and the students and I felt that by workshopping others' pieces I grew as a writer myself.
– 2019 PARTICIPANT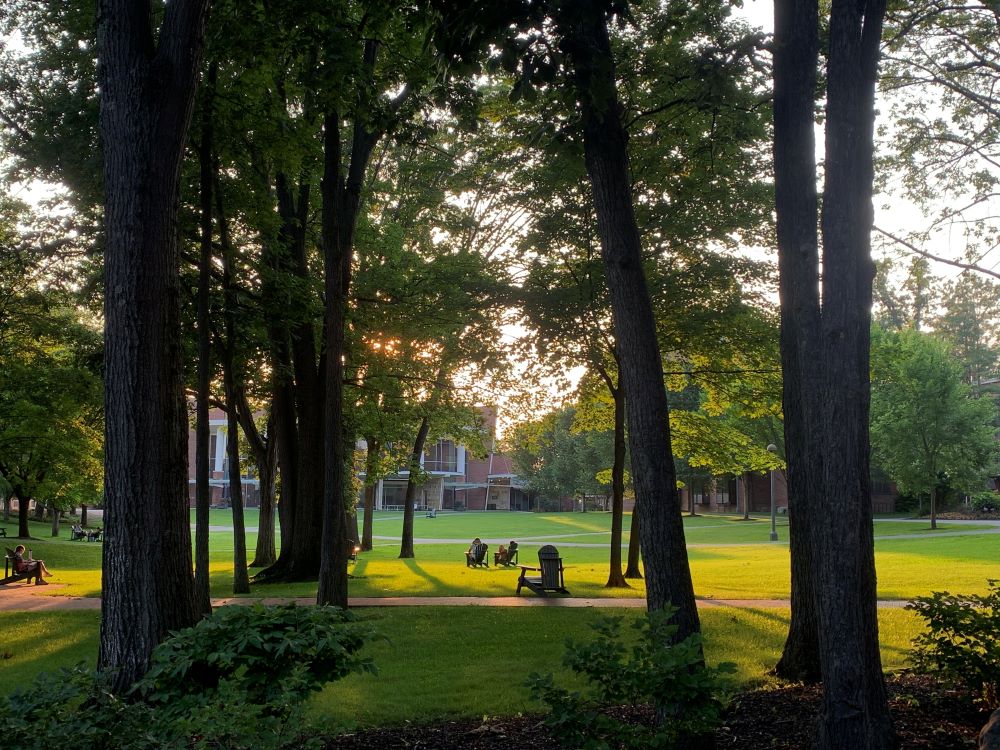 Photo by participant Aliah Candia