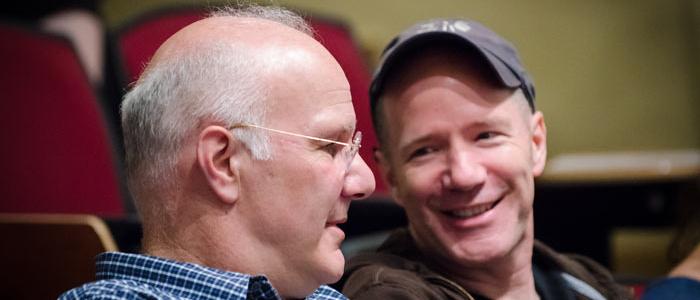 Faculty Henri Cole & Rick Moody – photo by Jim McLaughlin
2017 Writers Institute Faculty
Fiction | Non-Fiction | Poetry | Writers-In-Residence
---
FICTION
Elizabeth Benedict is the author of Almost, a novel described by Edmund White as "a fast-paced, funny, and splendidly intelligent drama [with] a varied, unforgettable cast of characters." Her earlier books include Slow Dancing (a finalist for the National Book Award), The Beginner's Book of Dreams, Safe Conduct, and The Joy of Writing Sex ("Read it because it will teach you everything you need to know about writing good fiction,'' suggests Peter Carey). Benedict has taught at Princeton University, Swarthmore College, and the Iowa Writers Workshop. Her latest novel is The Practice of Deceit.
Adam Braver is author of several historical novels including Divine Sarah, Mr. Lincoln's Wars and Crows Over The Wheatfield. ("Brilliant and inventive work," wrote a reviewer for the Los Angeles Times Book Review. "A novelist whose works are richly imagined," says the Washington Post.) Braver's most recent novels are 1963, which revolves around the assassination of John F. Kennedy, and Misfit. ("Amazing...a book about identity, privacy and intimacy that both exposes and conceals its subject – Marilyn Monroe," writes Ann Beattie).
Mary Gaitskill is the author of such acclaimed novels as The Mare and Veronica. Of Veronica, Heidi Julavits has written in Publishers Weekly: "Gaitskill's style is gorgeously caustic and penetrating, with a honing instinct towards the harrowing; her ability to capture abstract feeling and sensation with a precise and unexpected metaphor is a squirmy delight." And Janet Maslin writes in the New York Times: "Gaitskill writes so radiantly about violent self-loathing that the very incongruousness of her language has shocking power." Her earlier books include the novel Two Girls, Fat and Thin and the story volumes Bad Behavior, Because They Wanted To and Don't Cry. ("Gaitskill writes with such authority, such radar-perfect details, that she is able to make even the most extreme situations seem real," writes Michiko Kakutani in the New York Times.)
Cristina Garcia is the author of six novels. Her first novel, Dreaming in Cuban (1992), was a finalist for The National Book Award and inspired a reviewer in The Nation to write: "Her work is renewing American fiction." Of her later novels, Edwidge Danticat wrote: "Cristina Garcia enchants us with lyricism and humor and political engagement." Of her most recent novel, King Of Cuba (2013), the New York Times reviewer wrote: "Garcia has allowed herself to love her despot as much as she loves his enemy… [The novel] is a gift Garcia has given to the country of her birth—and to us." Garcia was born in Cuba and was for some years the TIME magazine Bureau Chief in Miami before becoming a full-time novelist. She has won the Kafka Award, Guggenheim and Hodder Fellowships and other prizes. She was a student at the New York State Summer Writers Institute in 1990.
Garth Greenwell is an American poet, author, literary critic, and educator. His debut novel, What Belongs to You, has been called the "first great novel of 2016" by Publishers Weekly. James Wood wrote of this book in The New Yorker that it is "a work of originality and power," "consummate in its mastery of pacing," and with "a rare delicacy." The reviewer for The NY Times wrote of it as "a masterly debut novel" and "an instant classic…on a gay man's endeavor to fathom his own heart." Edmund White describes the novel as "simply a masterpiece." In 2013, Greenwell returned to the United States after living in Bulgaria to attend the University of Iowa Writers' Workshop as an Arts Fellow. He has published stories in The Paris Review and A Public Space and writes criticism for The New Yorker and The Atlantic. Greenwell studied at the Eastman School of Music and received a BA in Literature with a minor in Lesbian and Gay Studies from the State University of New York at Purchase in 2001, where he received the 2000 Grolier Poetry Prize.He received his MFA from Washington University in St. Louis, and an MA in English and American Literature from Harvard University. He has taught at several programs in this country and in Europe. Greenwell's first novella, Mitko, won the Miami University Press Novella Prize and was a finalist for the Edmund White Debut Fiction Award as well as the Lambda Award. His work has appeared in Yale Review, Boston Review, Salmagundi, Michigan Quarterly Review, and Poetry International, among others.
Adam Haslett is a graduate of Swarthmore College (B.A., 1992), the University of Iowa (M.F.A., 1999), and Yale Law School (J.D., 2003). He has been a visiting professor at the Iowa Writers' Workshop and Colombia University. His first book, a collection of short stories entitled You Are Not a Stranger Here, was released in 2002 and was a finalist for the 2002 National Book Award and the 2003 Pulitzer Prize and spent some time on The New York Times Best Seller List. It won the PEN/ Malamud Award for the best book of short fiction in 2002. It was also named one of the five best books of the year by Time. Haslett has received fellowships from the Guggenheim Foundation, the Rockefeller Foundation, and the Fine Arts Work Center. His work has appeared in The New Yorker, Esquire, The Nation, The Atlantic and The Best American Short Stories as well as National Public Radio's Selected Shorts. His first novel, Union Atlantic, was released in February 2010. It has been translated into twelve languages and won a Lambda Literary Award for best work of gay men's fiction published in 2010. Haslett's most recent novel, Imagine Me Gone, was published in 2016. Reviewers have the following to say of Haslett's fiction: "Adam Haslett may be our F. Scott Fitzgerald." (Washington Post Book World) "Union Atlantic is the first great novel of the new century that takes the new century as its subject." (Esquire) "Imagine Me Gone offers "a full and luminous depiction of the mind under siege" in a book "refreshingly replete with surprise, with a dark and winning humor and sentences so astute that they lift the spirit even when they're awfully sad." (The New York Times Book Review) "Haslett is a major talent. It's been years since a novel has captured the zeitgeist of contemporary America this well." (Bookslut)
Paul Harding won the Pulitzer Prize for his debut novel Tinkers in 2010, and his recent 2013 novel Enon has inspired comparable praise. In the New York Times Mark Slouka wrote: "One might have to go as far back as Marilynne Robinson's Housekeeping to find a first novel that declared itself with such authority. Harding's associative flights—his twisting, turning lyricism—were stunning, his ability to stress the physical world into extended metaphor downright Melvillean…In Enon, Harding's gifts are again everywhere on display." Tinkers also won the PEN Bingham Prize, and inspired the following citation: "An exquisite novel, at once fresh and hauntingly familiar, simple and profound." More recently, the New Yorker reviewer said of Enon: "An extraordinary follow-up to Tinkers…a darkly intoxicating read." Harding was a student at the New York State Summer Writers Institute and received an MFA from Iowa. In recent years he has taught at Harvard University and in the MFA program at Iowa.
Amy Hempel is the author of several acclaimed volumes of short fiction, including Reasons To Live, At The Gates of the Animal Kingdom, Tumble Home, The Dog of the Marriage, and The Collected Stories of Amy Hempel, the last of which was described in the Village Voice as "the literary event of the year." The Atlantic Monthly noted that "few fiction writers are as intensely admired by her peers," while a reviewer for the Chicago Tribune described her "word by word virtuosity" as "off the charts." In his "Introduction" to Hempel's Collected Stories Rick Moody speaks of her "bladelike" prose and her "besieged consciousness." Until recently she directed the creative writing program at Brooklyn College and taught for several years at Harvard.
Rick Moody is author of several novels including The Ice Storm, Purple America, and Garden State. He has also written two acclaimed volumes of short fiction, Demonology and The Ring of Brightest Angels Around Heaven. Newsday describes him as "our anthropologist of desolate landscapes," John Hawkes as "a writer of meticulous originality." He received the Academy of Arts and Letters Addison Metcalf Award. His memoir is The Black Veil ("Moody's writing rants and raves and roars," writes a reviewer for the New York Times. "He is an unrepressed quester after meaning," writes Robert Boyers). Moody's latest novels are The Diviners (2005) and The Four Fingers of Death (2010), and his latest collection of short fiction is Right Livelihoods (2007). "One of our best writers," said a reviewer for the Washington Post. Moody's acclaimed recent novel is Hotels Of North America (2016)
Howard Norman is the author of seven novels, including the recent Devotion ("eloquent…a testament to Norman's immense skill," Washington Post Book World; "a beautiful story of love gone awry," Booklist). Among Norman's earlier fictions are The Northern Lights (a National Book Award finalist) and a book of stories entitled Kiss In The Hotel Joseph Conrad. His books have been translated into 12 languages and include a number of memoirs and non-fiction works as well. Of his novel The Bird Artist—probably his best-known work—Richard Eder wrote in the Los Angeles Times Book Review, "One of the most perfect and original novels that I have read in years." Michiko Kakutani wrote in the New York Times, "Bewitching…glows like a night light in the reader's mind." Norman's novel The Museum Guard was described by John Banville in the Washington Post as "an impressive and admirable achievement." His latest novel is Next Life Might Be Kinder.
Joanna Scott won a MacArthur "Genius" Award when she was 31 years old, and has also won many other awards, from a Lannan Foundation Prize to a Guggenheim Fellowship and membership in the American Academy of Arts and Sciences. She is the author of many books, including the novels Follow Me, Tourmaline, Make Believe, The Manikin, Liberation and others. She is also the author of two volumes of short stories entitled Various Antidotes and Everybody Loves Somebody, and won the Aga Khan Prize for short fiction from the Paris Review. "An elegant, completely spellbinding writer," says the Washington Post. "One of the really important contemporary voices," writes Rick Moody….."vital, passionate fiction about how we live our lives." Scott is the Burrows Professor at The University of Rochester and has taught at the New York State Summer Writers Institute in ten previous summers.
---
NON-FICTION
Phillip Lopate is a central figure in the recent revival of interest in memoir writing and what has come to be called "the personal essay." Lopate is the author of Portrait of My Body, Confessions of Summer, Against Joie de Vivre, The Rug Merchant, Being with Children, and Totally Tenderly Tragically. He is also the editor of The Art of the Personal Essay and was the series editor of The Anchor Essay Annual. Lopate's work has been included in The Best American Essays and The Pushcart Prize Series. His most recent books are To Show and Tell, Portrait Inside My Head, Waterfront, Getting Personal: Selected Writings and Notes On Sontag. In 2008 he published a volume of fiction entitled Two Marriages. He directs the non-fiction MFA program at Columbia University.
James Miller is the author of a controversial book about rock and roll, Flowers in the Dustbin (Simon & Schuster). His earlier books include two titles nominated for the National Book Critics Circle Award: Democracy Is in the Streets (1987), a study of the American student left in the 1960s, and The Passion of Michel Foucault (1993), a critical biography of the contemporary French thinker. Director of the graduate program in liberal studies at the New School, and, until recently, editor of Daedalus (the magazine of the American Academy of Arts & Letters), Miller writes often for such publications as the New York Times, the Los Angeles Times, and the New Republic. He has also written extensively about popular culture, reviewing for Rolling Stone and, for 12 years, serving as book and music critic for Newsweek. Of Miller's best-selling book Democracy Is in the Streets, critics wrote, "brings the sixties alive in its passion, in its idealism, in its follies" (Ronald Steel); and "an outstanding work" (Hendrick Hertzberg). His latest book, entitled Examined Lives, received a rave review on the front page of the New York Times Book Review.
---
POETRY
Peg Boyers is the author of three volumes of poems, all published by the University of Chicago Press. The first, Hard Bread (2002), was described by Richard Howard as "the most original debut in my experience of contemporary American poetry." With poems spoken in the invented voice of the late Italian writer Natalia Ginzburg, the book, says Robert Pinsky, "not only surpasses the notion of a merely good first book" but "soars beyond the conventional expectations of 'persona' and dramatic monologue." "The creation of the voice in this book," wrote Frank Bidart, "stoic, passionate, resigned, insistent on truth—is a brilliant achievement." Boyers' second book, Honey With Tobacco (2007), "has a rare power," wrote George Steiner; "a beautiful book," wrote Henri Cole. Peg Boyers is executive editor of the quarterly Salmagundi and teaches creative writing at Skidmore College. Her latest book, entitled To Forget Venice, came out in October of 2014.
Henri Cole is the author of seven books of poems, including The Look of Things, The Marble Queen, The Visible Man and Middle Earth. ("Henri Cole has become a master poet, with few peers," writes Harold Bloom. "Middle Earth is [his] epiphany, his Whitmanesque sunrise… [These] are the poems of our climate.") Of his earlier books, Wayne Koestenbaum wrote in the New Yorker: "a poet not content to remain in the realm of the merely lapidary, the self-consciously coloratura…he produces lines of natural and nonchalant brio…in stanzas as shapely as topiary…; he can write about the soul stumbling against quotidian impediments… [approaching] a variety of subjects, from first love… to family history." Cole has taught at the Summer Writers Institute since 2004. His most recent books are Blackbird & Wolf and Pierce The Skin, a volume of Selected Poems: 1982-2007.
Campbell McGrath teaches creative writing at Florida International University and has taught at the Summer Writers Institute since 2007. The winner of a MacArthur "Genius" Award, he is the author of many books of poetry, including American Noise, Pax Atomica, Spring Comes To Chicago, Seven Notebooks, Florida Poems and Capitalism. "A poet of formal eloquence and rhetorical power," writes the reviewer for Publishers Weekly, "of vision and engagement….he descends into the maelstrom of American culture and emerges singing." "He is our Whitman," writes the reviewer for American Review. McGrath's latest book is XX: Poems For The 20th Century.
Robert Pinsky served as Poet Laureate and Consultant in Poetry to the Library of Congress from 1997 to 2000. He is the author of nineteen books, including The Figured Wheel, History of My Heart, The Want Bone, Jersey Rain, Gulf Music and (2016) At The Foundling Hospital. Of his poetry, Katha Pollitt wrote in a front-page review for The New York Times Book Review: "Here is a poet who, without forming a mini-movement or setting himself loudly at odd with the dominant tendencies of American poetry, has brought into it something new…Call it a way of being autobiographical without being confessional, of connecting the particulars of the self…with the largest intellectual concerns of history, culture, psychology and art…One of Pinsky's greatest accomplishments is the way he recoups for poetry some of the pleasures of prose: storytelling, humor, the rich texture of a world filled with people and ideas…with a rich and vigorous play of mind….What makes Pinsky such a rewarding and exciting writer is the sense he gives…of getting at the depths of human experience." Pinsky's published work also includes critically acclaimed translations, most notably The Inferno of Dante Alighieri and The Separate Notebooks by Czesław Miłosz. His many prose books include The Situation of Poetry, The Life of David and The Sounds of Poetry. He teaches at in the graduate writing program at Boston University. As Poet Laureate, Pinsky founded the Favorite Poem Project, in which thousands of Americans of varying backgrounds share their favorite poems.
Vijay Seshadri is a Brooklyn, NY–based Pulitzer Prize–winning poet who won the 2014 Pulitzer in poetry for Three Sections. He has been an editor at The New Yorker, and for many years a professor and chair in the undergraduate writing and MFA program at Sarah Lawrence College. Seshadri's poem The Disappearances came to prominence after the The New Yorker published it on their back cover following the September 11 attacks in 2001. The New Yorker poetry editor, Alice Quinn, said that the poem "...summoned up, with acute poignance, a typical American household and scene...The combination of epic sweep (including the quoted allusion to one of Emily Dickinson's Civil War masterpieces, from 1862) and piercing, evocative detail is characteristic of the contribution Seshadri has made to the American canon." Author of several volumes of poems, Seshadri has been praised for the "electric energy and gravitas" of his work by Frank Bidart, and for his "musicality and wit" by Eavan Boland. Campbell McGrath has written that Seshadri is "grave and witty, classical and contemporary, casually brilliant….a writer of subtle, elastic and brilliant intelligence."
Rosanna Warren has won the Lamont Poetry Prize and many other awards for her poetry. She is the author of five books of poems, including Departure, Stained Glass, Each Leaf Shines Separate and Ghost In A Red Hat. Harold Bloom writes: "Warren is an important poet, beyond the achievement of all but a handful of living American poets." And Charles Simic writes in The NY Review of Books: "Her work has become stronger and stronger… The new book explores intimacy and separation in poems of difficult love….Masterful and ambitious." Until recently Rosanna Warren was University Professor at Boston University and is now a Professor in the Committee on Social Thought at University of Chicago.
---
WRITERS-IN-RESIDENCE
Fiction: Amy Wallen is the author of the novel Moon Pies and Movie Stars ("a delightful and exhilarating journey, kind of like being on a tour bus guided by Eudora Welty on speed," writes Mary Gordon). She teaches creative writing at the University of California at San Diego and is Associate Director of the New York State Summer Writers Institute.
Fiction: Helen Klein Ross is a poet and novelist whose work has appeared in The New Yorker, The New York Times and literary journals. Her novel What Was Mine was published by Simon & Schuster in 2016 and praised by Claire Messud as a work of "compelling lucidity and vivid precision." Helen is at work on her next novel, forthcoming from Little, Brown in 2018. She is the creator and editor of The Traveler's Vade Mecum published last year by Red Hen Press, a compendium of new poems titled by old telegrams sourced from an 1853 book she discovered on Twitter. Contributors include Frank Bidart and veterans of his New York State Summer Writers workshop.
Non-fiction & Poetry: Honor Moore is the author of an acclaimed biography entitled The White Blackbird and of the controversial memoir The Bishop's Daughter. She has also written three volumes of poems, including Darling, The Red Shoes, and Memoir. Jorie Graham: "Honor Moore has written a searing exploration of exposure." Boston Review: "Moore has a unique ability to infuse her poems with real body heat, emotional electricity, and the divine grief at the center of desire."