A call to celebration
Despite a week of gloomy weather forecasts, the sun broke through to shine on the Class of 2014, the largest in Skidmore history, during the College's 103rd commencement. The 712 bachelors degree recipients in the Class of 2014—a group that had a profound impact on Skidmore over the past four years—exuberantly walked across the stage to applause, cheers, and a few tears of happiness from the thousands of family and friends in attendance May 17 at the Saratoga Performing Arts Center. [Read more.]
What they said
Highlights of the speakers' remarks, including those by President Philip A. Glotzbach and scientist, author, and PBS host Neil Shubin.
Saluting the Class of '14
The College recognized nearly 100 outstanding seniors at its Honors Convocation and SGA Leadership Banquet.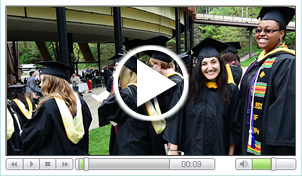 Leaving their mark
Contributing $542,416 to the Senior Parent Project, the families of graduating seniors set a new record for participation.
What's Next?
We asked our newest alums to tell us where they're going with their Skidmore degrees. Their answer: all over.
Check out photos on Instagram, #Skid4Life