Register For Reunion
Hard to beat Skidmore College in May! We look forward to having you and your classmates join us back in Saratoga Springs May 28-31 for Reunion 2015. Register for any number of the exciting Reunion activities we have planned for you this year and we'll see you soon!
As of 11:59pm, Thursday, May 21, pre-registration for Reunion 2015 will no longer available. If you have not registered, but still would like to attend Reunion, on-site registration will open Thursday, May 29 at 12noon at Case Desk, second floor in Case Center. Please note that we cannot guarantee housing with your class or class meal/event availability if you register on-site.
The Registration/Check-in Desk will be open the following hours:
| | | |
| --- | --- | --- |
| Thursday: | | Noon – 9 p.m. |
| Friday: | | 9 a.m. – Midnight |
| Saturday: | | 9 a.m. – 8 p.m. |
If you have any questions, please contact Alumni Relations & College Events at 518-580-5610.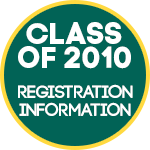 Register Online
Registration for Reunion is NOW CLOSED! While you can no longer pre-register for Reunion weekend, you are still more than welcome to join us May 28-31. You may register on-site starting Thursday, May 28th at 12 noon at the registration desk (Case Center, second floor).
To speed up your walk-in registration, we recommend printing out a printable registration form, filling it out and bringing it with you to Case Desk.
Printable Registration Forms
TO REGISTER BY MAIL:
Complete form (both pages) and mail with payment to:
Office of Alumni Relations & College Events, Skidmore College, 815 North Broadway, Saratoga Springs, New York, NY 12866
(If paying by check, please write "reunion registration" on memo portion of check and mail with this form.)
TO REGISTER BY FAX:
Complete form (both pages) including credit card information and fax to (518) 580-5669.
Non-Reunion Year Alumni
All Skidmore Alumni are welcome to attend Reunion regardless of their class year! If you would like to join us in May, we ask that you fill out a printable registration form (above) for the class you would like to participate with. Please follow the directions provided on the form and mail or fax the form back to the Office of Alumni Relations and College Events.
Cancellations/Refund Policy
All cancellations must be made by May 8. After this date, Skidmore will not refund any alumni or guest registration fees. After May 15, no refund will be given for any fees or charges associated with Reunion Weekend. By this date we have given firm commitments and guarantees to off-campus vendors and other partners in your name that generate nonrefundable expenses to Skidmore College.
Housing for Reunion Weekend is available both on and off campus.
**Please Note** The housing reservation is May 8th.
For more information on housing, please click here.