Water Resources Initiative
Photography Projects
Visual Landscape Change Through Rephotography (2010)
Nicholas Liu-Sontag, Karen Kellogg, Alex Chaucer
What does change look like?
This project focused on capturing historical and current land-use trends in an effort to understand our interactions with the natural world, the impact of those interactions and how those interactions are changing. By using modern reproduced photographs from historical images, we explored these interactions through a medium that provides an accessible visual comparison.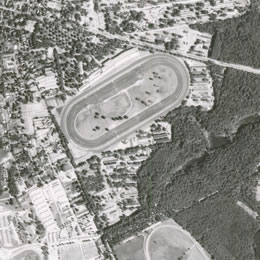 Capturing and Preserving Historical Aerial Photography: Creating a GIS Database of Local Watershed Imagery (2009)

Joe Eisenberg '09 and Alex Chaucer, GIS Instructional Technologist

Aerial photography captures an important historic record of the surface of the earth at a specific date. This snapshot in time can yield valuable information about both physical and human geographic activity, which in turn can help to inform research in environmental studies, biology, history, sociology, economics, anthropology, and other disciplines. This project took a collection of over one thousand historic aerial photos from Saratoga County Soil and Water, taken between 1942 and 1986, and developed a digital system of access for local watershed research projects.
The Watershed in Pictures (2006)
Photography by Adam Wallace and Josh Gerritsen
Layout and design by Adam Wallace
This project uses digital photography in an interactive web-based format which gives the viewer the opportunity to explore the wateshed. Photography from "Saratoga Water" and "Contested Waters" is used in this project and is presented in a unique and dynamic way.
Saratoga Water (2006)
Photography by Adam Wallace
This project analyzes the current drinking water source for Saratoga Springs, Loughberry Lake, and the potential future drinking water source, Saratoga Lake, through artistic photography. Using unique lighting and angles, this project asks the viewer to take a new look at these important bodies of water. This project was done as an independent study in the fall of 2005 and was presented in an exhibit in Case Gallery in February 2006. The show of 15 framed prints was later installed in a hallway in Dana Science Center.
Contested Waters (2006)
Photography by Adam Wallace and Josh Gerritsen
This project uses photography to explore the natural and human influences on the Saratoga Lake watershed. Starting at the headwaters of Kayaderosseras Creek and ending at the Saratoga Lake outflow at Fish Creek, this exhibition provides a visual context for understanding the competing interests that affect the surrounding watershed. This project was presented in an installation of 20 hanging photographs in the Dana Science Center in May 2006.