Off-Campus Merchants
Your Skidmore ID Card is now accepted for payment at the following Saratoga Springs area merchant locations (listed alphabetically).....
This Off-Campus Merchant Page is designed to allow one-stop shopping and ordering by listing merchant services, locations, telephone numbers, business hours, & Menus just below each merchant logo or through the web links also provided below.
When placing telephone orders for delivery service you will be asked to state the 16 digit account number that appears on the front of your Skidmore ID Card and begins with the numbers 60124. Upon delivery, you will be asked to present your Skidmore Id Card for account number and photo verification, and you will also be asked to sign your receipt at that time.
Additionally, when placing telephone orders for delivery service please communicate to the merchant whether you wish to have a gratuity for delivery service added to your bill and also deducted from your Skidmore ID Card account, or whether you plan to pay a gratuity for delivery service using cash at your door.
List Off-Campus Merchants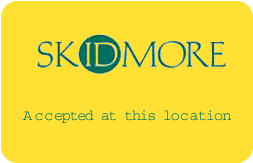 Remember that you can use your Card wherever you see the logo displayed.
When it comes to convenience, your Skidmore IDCard is your ticket!

Start Your Account Now.

First, read the posted card rules. Then you can deposit money into your Declining Balance Account, by filling out the deposit form and mailing it with your check to:
The SKIDMORE Card Office
Skidmore College
815 North Broadway
Saratoga Springs, NY 12866

Questions? Give us a call at (518) 580-5854.