Featured English Major Alumni
Please contact Theresa Knickerbocker with news you would like to share. The English Department, as well as our alumni friends, would like to know where you are and what you've been doing.
Class of 2012: What are they up to? Where are they now?
Seven English majors from the Class of 2012 are beginning their teaching experience in China. Deven Bussey, Rebecca Epstein, Haley Joy Fowlkes, Madeline Hennessey, Sergio Hernandez, and Annie Tibbitts are at Sun Yat-Sen University, Zhuhai City, Guandong Province. Elizabeth Bercovici is at Qufu Teachers University, Qufu City, Shandong Province. Sandy Welter, in charge of the Skidmore Teach in China Program, notes, "These alums represent the best of a liberal arts education—flexibility of mind, strong speaking and writing skills, a sense of adventure, and an enthusiastic, global perspective."
Anthony Princi debuted an EP for the London/Sheffield label Bad Taste Records UK. He was inspired to write a song about his favorite Victorian icon, Jack the Ripper. The song is called "Jack's Back," an eerie club tune with distorted bass sounds and creepy vocals contrasted with bright, mystifying synths. He reports, "The artwork (see attachment) was done by Skidmore art major Melissa Schlobohm (2012)—kind of a cool Creative Thought Matters collaboration." The record topped the Bass music sales charts on one of the London retail sites.
Douglas Pilawa is an Assistant at IES abroad, living in Paris.
---
Additional Featured Alumni
Kyle Carey '08, singer and songwriter.
Kyle has been granted a Fulbright to study traditional music in Cape Breton and has also been accepted into the Teach for America program.
"I was always encouraged to write creatively at Skidmore, and this greatly aided my songwriting abilities. I was also encouraged to write my senior thesis about Tomas O'Crohan, a resident of the Great Blasket Island (off the shore of Western Ireland) who wrote his memoir in the Irish language. I spent a semester in Kerry researching this thesis and connecting with many of the musicians who would later be on my album. In my music minor, I was encouraged in my love of folk music and my interest in ethnomusicology and Celtic music. I took fiddle lessons with John Kirk and started the Traditional Music Club. All of this would eventually earn me the President's Award.

"One thing that has helped me stand out as an artist in the highly competitive field of folk music is my songwriting ability. Each of my songs tells a story, with a focus on character development, plot, and poetics. I like to think of each of my songs as a mini-novel. The study of literature at Skidmore aided me in developing the skills to tell a good story effectively. I spent four years studying what makes good literature, and through it all I was encouraged to create my own stories. Skidmore's English Department also allowed me the flexibility to pursue my interest in Celtic literature, which in turn led to my study of Gaelic languages and to the development of my own brand of music, which I like to call 'Gaelic Americana.'"
Lauren Marder Prentiss '06, associate director of client services, Communispace Corporation

"The beauty of majoring in English is that the door is wide open when you graduate—you aren't limited by narrow career paths or fated to follow in the same footsteps of other English students. In fact, the skills developed within the English Department are foundational and extremely valuable to almost any career, especially for one in business. Upon graduating, I was armed with the ability to analyze written opinions and narratives, and it nearly became second-nature to identify patterns, metaphors, and themes in people's words and work. These very skills serve me every day in the world of Market Research/Online Communities (MROC). Through qualitative research in private online communities, I leverage these same practices to uncover consumer trends or extrapolate unmet needs to help clients elevate their business strategies. Skidmore also trained me to assemble my own observations and arguments and craft a storyline from a slightly different perspective or angle to help the reader see something unique, provoking, and engaging. Even in today's fast-paced, media-driven world of business, organizations rely on written insights to understand the themes and trends that inform business decisions. Storytelling is one of the most powerful ways that humans relate and understand one another, and business organizations need creative minds to tell meaningful stories that spark positive change. That is what I do. I'm proud to be a Skidmore English alumna and believe that any students who pursue an English major at Skidmore have the opportunity graduate with the skills and confidence to seek, invent, and author a unique career story of their own. "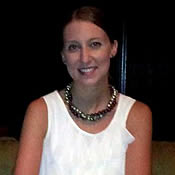 Melissa Rampelli '06, doctoral fellow and adjunct professor of literature at St. John's University
"My journey toward doctoral work in English has been a slow one, marked with much growth and reflection, but my experience as an English major at Skidmore nonetheless proved the catalyst and provided a strong foundation. The "Peer Tutoring" course I took with Associate Professor Philip Boshoff during my junior year truly honed my understanding of revision (I still recall the professor providing—to all students—personalized and extensive feedback on five drafts of one essay) and the important differentiation between editing a paper and conferring with a student. The experience I gained in the Writing Center my junior and senior years influenced my decision to pursue an MAT at Brown University. It helped me immensely as a high school English and Writing Center teacher and still influences how I confer with my students on their writing today.
The senior thesis work I completed under the mentorship of Professor Catherine Golden shaped the doctoral work on female sexual and social subjectivity and sovereignty in Victorian literature that I would come to do six years later. The rigorous yearlong researching and writing (and rewriting!) process allowed me to work with a renowned scholar in the field (and absorb all the insight into process and product that she could bestow) and offered a graduate-level experience in a supportive undergraduate setting. Presenting this work at the Academic Festival and at the Academy for Lifelong Learning in Saratoga Springs provided me with presentation experience that would give me the confidence to join graduate conferences later on.
I started out as a business major my first semester at Skidmore, but the English Department coaxed out my true passion, and I continue to be thankful for that mentorship."
Justin Rogers-Cooper '03, assistant professor of English at LaGuardia Community College
"It's probably easy to imagine how the Skidmore English major helped me to become an assistant professor of English, but in actuality becoming a person who teaches writing professionally took time. The English Department prepared me for teaching from the very beginning. My first English class was the required composition course. I came into it strikingly confident and impressed with my own abilities—after all, I had made A's in AP English in high school. My first essay came back a D. I spent the rest of the year re-learning how to form arguments, and I did so in small writing workshops with my peers. Halfway through my four years, I grew enough to take the Peer Tutoring training class. I worked as a Writing Center tutor and then became head tutor my senior year. The training and all the one-on-one dialogues with students reinforced the peer review lessons from that first composition class: Writing was a process, writing was social, and writing required me to rethink and recalibrate my initial thoughts. My senior year, I wrote a senior thesis on James Baldwin. I read all his novels in the fall and wrote the chapters in the spring. My close one-on-one contact with my advisor solidified my close-reading skills and opened my mind to absolutely beautiful literature. Besides giving me the confidence to write such a long document (it checked in at 110 pages!), it also gave me critical ideas for graduate school. Some of the literary critics I used in the thesis ended up in my dissertation for my Ph.D at the City University of New York Graduate Center. Looking back, I know my success so far has grown from my intimate relationships with Skidmore faculty and students: I got individual attention that mattered. By the time I graduated, I also realized that the energized faculty had taught me these lifelong writing and reading techniques by blurring the distinction between work and play. I've been having fun ever since."


Max Meyers '98, television producer of Options Action and Money in Motion for NBC Universal, CNBC

"An English degree is a must for anyone looking to begin a career in journalism. As a television producer, I'm constantly reading and writing under the stress of unforgiving deadlines, something I learned during late nights polishing off term papers at Skidmore. But my Skidmore English degree has helped in more subtle ways. It not only made me a better writer; it also made me a better listener, a crucial skill for any hungry journalist. But more than anything, my English degree helped me develop an understanding of how words and images can come together. One class in particular helped inform this sensibility. It was "The Victorian Illustrated Book," and it explored how Victorian artists used images to convey complex messages. As the executive producer of business news for CNBC, one aspect of my job is to find a way to convey complex concepts in simple formats often incorporating the visual. Unlike general news, business news is inundated with a massive amount of statistics and facts. And part of my job is to make sure those figures are conveyed in a clear and simple way, a skill that I learned well at Skidmore. I may not have realized it at the time, but English classes at Skidmore turned out to be great on-the-job training. "


Hillary Frey '97, managing editor, Yahoo News

"When I arrived at Skidmore, I thought I'd be a classics major and then a geology major (which I was for a while, actually). But even as I pursued Latin and crystallography, I was enrolling in more and more English classes, reading Hawthorne and writing about Romeo and Juliet, getting lost in papers and writing projects. I was so consumed by the pleasurable reading of Madame Bovary, I nearly failed my senior thesis project on The Scarlet Letter—until I holed up for a week to do a complete revision of all 60-odd pages. Rather than sour me on the writing process, that experience of rewriting and rethinking and revising made me enamored of it. I also loved working on a deadline. I knew then I wanted to be an editor. And thanks to the demands of my Skidmore professors, many of whom I'm in touch with to this day, I moved to New York City knowing what good writing is and how to get it, both out of myself and other people. I've moved from the literary world to the journalistic one, but the rules are the same: Be clear with your ideas, secure in your thinking, and not too fussy with your language. I learned all those things at Skidmore."