Chamber Music: Brass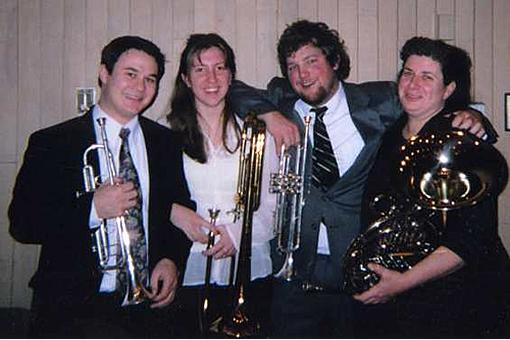 Brass Ensemble: Patrice Malatestinic, coach, MP 297/298 sections 005. Contact pmalates@skidmore.edu or 518-587-7717.

Chamber Music Brass may be taken for 1 credit or for no credit (audit). Ensembles are scheduled at times TBD by student and coach availability. Advanced/longstanding groups often opt for additional rehearsal times and create their own performances.
Groups are designed/configured to bring together student musicians of similar playing abilities. Open to all Skidmore students, brass ensembles rehearse weekly and present their work in a college concert performance each semester; groups may also perform in the community. Advanced chamber groups are frequently invited to perform in master classes presented by visiting artists

Though not required, taking private lessons is highly encouraged.

Participation in large ensembles (Orchestra, Concert Band, Chorus,) is also recommended for music students.

The brass chamber music experience at Skidmore is designed to bring students together to develop their technical, musical, interpretive ensemble skills; introduce them to new music and performers; and familiarize them with the processes of choosing repertoire, developing effective rehearsal techniques, communication and collaborative skills, and concert production. The ultimate goal is preparing student players to become capable of forming and maintaining chamber groups in order to keep music making a vital part of their post-undergraduate lives.