Student Profiles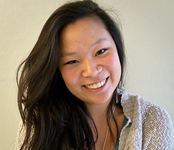 Emma, Communication Design
Minor: Arts Adminstration
Hometown: Seattle, WA

Extra Curricular Activities: Outdoor activities, arts and crafts, traveling, watching movies, working for the K-12 art education department at the Tang.
Why did you choose Skidmore?
Skidmore allowed me to explore all of my different interests coming into college without giving anything up or setting me back. That's not possible at most colleges. Skidmore encourages the exploration and discovery of new interests. The small and intimate class sizes really give you a chance to connect with your professors, who are great resources for opportunities outside of class or just to talk to. Studying abroad is also strongly encouraged for everyone, which was not the case at the other schools I was looking at. Skidmore really makes it possible for you to do everything.

What do you love about Skidmore?
I love the amount of opportunities and resources that exist on campus. There are programs and events all over just waiting for students to take hold of. Skidmore has really made it possible for me to go after what I want. The amazing staff in every department are all genuinely interested and want to help. My Studio Art professors and the counselors in the Career Development Center have been particularly helpful. They have really opened my eyes to all the opportunities and connections around me and within reach, its truly amazing. I feel motivated and supported every time I talk to them about the future.
Any advice for prospective students?
Choose your area of study because you love it, not because you think it'll look the best on paper. And get to know at least one of your professors well.
Lyle, Sculpture
Minor: I have two Majors, the second of which is History.

Hometown: Ellsworth, Maine

Extra-curriculars: Foundry Club, Swim Team

Why did you choose Skidmore?
In high school I was not the student I am today. Lazy and uninspired as I was, Skidmore drew me in with nice people and a beautiful campus. As I matured under the watchful eye of my professors, Skidmore has kept me here with challenging and thought provoking courses and fantastic professors. The educational environment here is both nurturing and challenging; a balance which is not easily found, and which I believe is is due in large part to the small class size and high level of interest shown by our professors.
What do you love about Skidmore?
I love being in an academic environment where topics are not segregated by department, and the faculty is ready to hear new information from new sources. For example, last week in a Thursday discussion I mentioned to my professor a book that could help our class, but which none of us had read. On Monday she sought me out and handed me the book, asking me to let her know if I thought it would be a valuable resource for the class. That is what makes Skidmore great in my eyes; the passionate and constantly adapting efforts of our faculty to convey understanding in in a variety of thought provoking and unexpected ways.
Any advice for prospective students?
As played out as it sounds, you have to do what you love and ignore that little bit of fear in your belly that says "oh no, but what if...". I realized if I wasn't doing something with art for the rest of my life I would be really unhappy. Deciding to base the rest of my life on my passion has put the reins in my hands, giving me purpose and confidence as my passion is supported by like minded people around me. No matter what your interest is, my advice is to trust yourself, take the leap, and pursue what matters to you.
Nicholas, Communication Design
Minor: English
Hometown: Vashon Island, Washington

Extra Curricular Activities: Campus Tour Guide, Marketing Intern for Skidmore Dining Services, LINE Art Review (Skidmore's Art Magazine), Graphic Designer for SkidEats (Skidmore's local food club), writing, and eating almond croissants.
Why did you choose Skidmore?

When I applied to colleges, my list was split down the middle: half liberal arts schools and half art schools. Skidmore provided me with the perfect solution—a place where I could pursue my academic and artistic interests equally without having to sacrifice one for the other. An added bonus was that I got to explore the East Coast!

What do you love about Skidmore?
Being able to study art in a liberal arts setting is incredible because I get this wonderful amalgam of different things that inspire me. Above all, though, I love the student passion at Skidmore. People on campus are excited about anything and everything, which creates a dynamic environment to live in. Seeing my friends come to life when they discuss their interests, even if they are completely different from my own, makes me want to pursue what I love. It's this brilliant snowball effect of passion.

Any advice for prospective students?
Talk to people on campus and explore the studios. Ask people lots of questions and ask yourself lots of questions; figuring out what's important to you is what matters most. Keep an open mind and remember that everything will work out in the end.